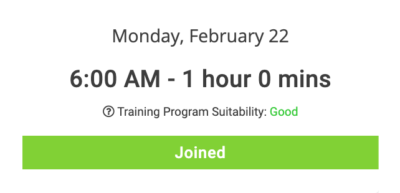 Training Program Suitability provides a way for you to understand whether the proposed session fits into your Training Program.  There are 3 values:
Good – The session will fit nicely into your current program in terms of XSS, Difficulty and Focus.
Neutral – The session is one you can do without impacting your progress.
Poor – The session may be too difficult or not ideal at this point in your Training Program.  Note that some more challenging workouts will show as Poor but within a group session, they often become ones you can do. Group workouts can often provide the added motivation to get you to complete workouts that are often too difficult.