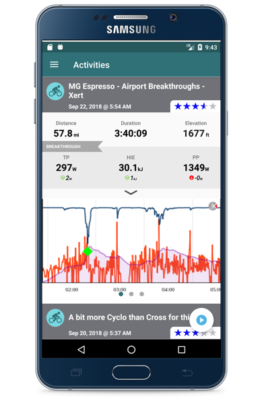 In an ongoing commitment to make sure you're able to review & analyze your data whenever and however you like, today we released an entirely new feature to the Xert Mobile app for Android, giving you the ability to review activities while on the move.
The new Activities list allows you to review the most important data from recent activities including distance, duration and elevation, as well your Fitness Signature and breakthrough details.
By expanding an activity, additional details can be reviewed including XSS, Focus, max and average heart rate, fat & carbs burned, and more. For a full summary of what you can see on the new activities list, see below.
Current Signature, Training Status & Form, Activity Summary
At the very top of the activities list in the same section as your name and profile picture, is your current Training Status (Training Load) & Form (freshness), your chosen Athlete Type and power for your Athlete Type, and your complete Fitness Signature including your Lower Threshold Power.
The default view in the activities list that follows is a minimized summary of each activity. Each minimized activity includes the name & date/time of the activity, your Training Status & Form at the beginning of the activity, the distance, duration, and total elevation gain, as well as your Fitness Signature at the time of the activity.
By tapping the floating button in the bottom right corner of the screen, you can also begin recording an activity whenever you choose.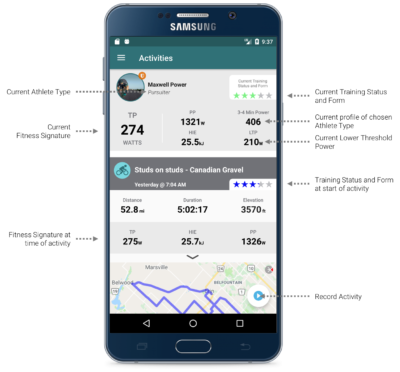 Expanded Activity View
Once the activity is expanded by touching anywhere in the activity details, all of the key metrics of the activity can be reviewed. And by hitting the 'VIEW ACTIVITY' button between the metrics and the map, the full activity details will be opened on your mobile device's browser.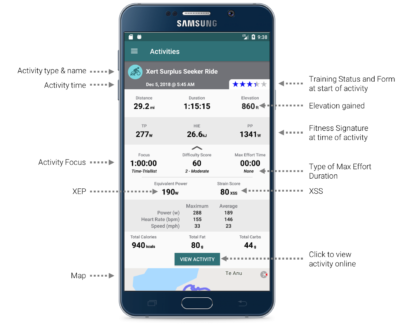 Breakthrough View
When you achieve a breakthrough you can see the details and location of your effort within the activities list. A banner appears with your new signature and the changes to each Fitness Signature parameter, colour-coded according to the number of parameters impacted by your breakthrough: gold=3, silver=2, bronze=1, and black=nearly a breakthrough (keep pushing!). The precise location of your breakthrough is visible with an image from Google Street View.
If you're unsure what some of the activity details mean, they can all be found in our Glossary.