When the Xert Adaptive Training Advisor (XATA) was first launched it helped users know what workout they should do now to deliver them to their best performance by their goal date. But what about "tomorrow, and the day after that, and next week"?
Enter… the Adaptive Planner. This powerful feature helps you automate the selection of workouts to deliver you to your goal date, all while navigating your busy life schedule. Whether a daily commute to work, a weekend group ride, a workout from the Xert library (including Smart Workouts), or an indoor trainer race, you can plan your training to meet your goals.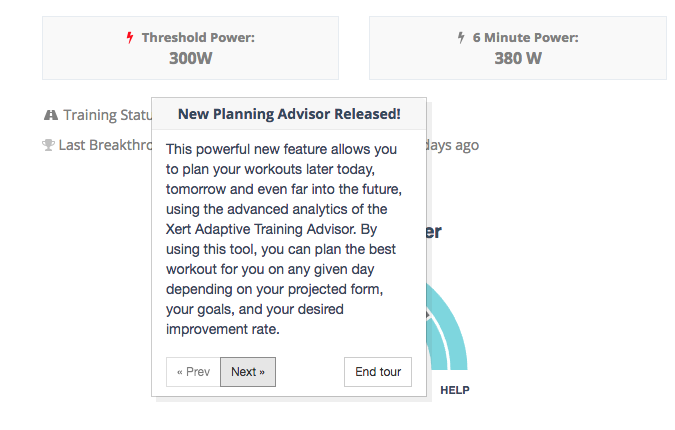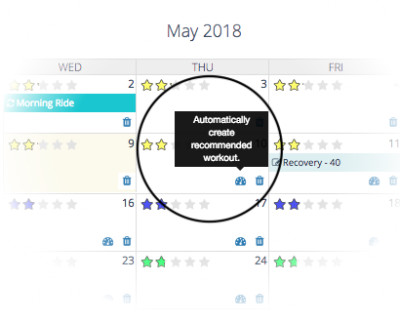 How the Adaptive Planner Works
The Adaptive Planner works in the same way that the Xert Adaptive Training Advisor works on your My Fitness page, providing advice based on the your completed activities and any planned activities.
Let's take a simple example to illustrate. Let's say we'd like to plan a workout for tomorrow at 7am.  Here is what our planner looks like right now: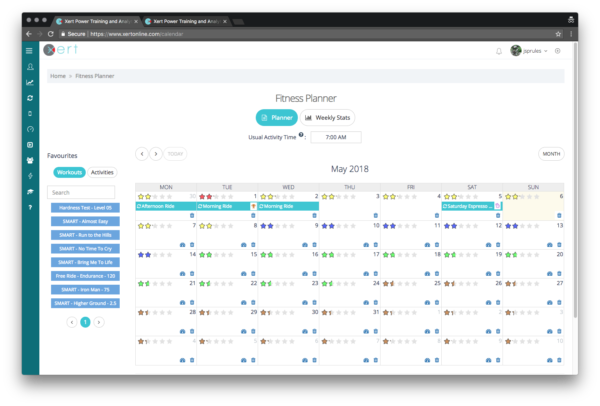 Today is Sunday May 6th.  Tomorrow, Training Status is yellow ("tired") indicating that an Endurance activity should be planned. Clicking on the gear icon in the calendar on the 7th pulls this up: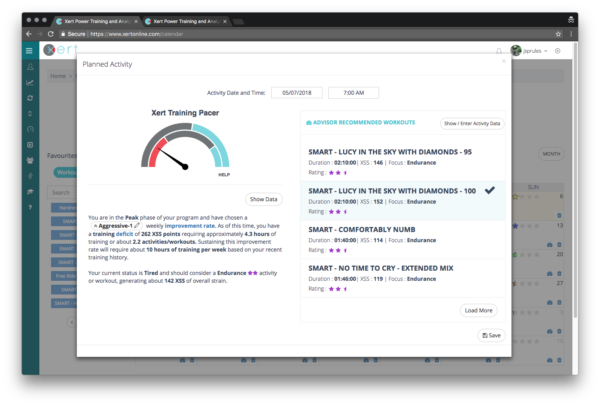 In the window we can see a description of the training information for tomorrow (the 7th of May).  There is a large deficit of 262XSS, i.e. "Falling Behind" and 10 hours of training needed to maintain the chosen Improvement Rate – Aggressive-1 – which represents a Ramp Rate of 4 points per week.  We only have 1:40 tomorrow so we choose SMART – Comfortably Numb and click Save to schedule this workout for tomorrow at 7am: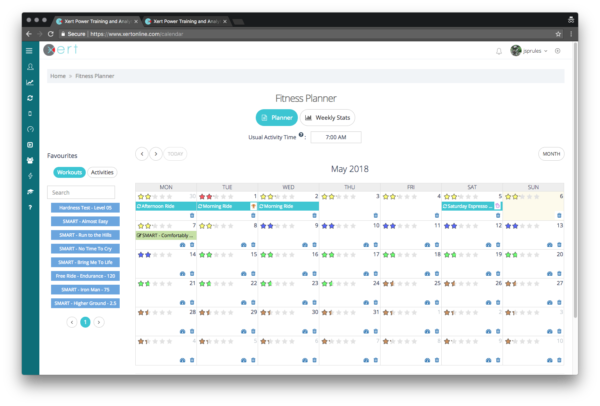 Creating your Plan for the Week
Unfortunately, we're going to be out-of-town on Tuesday so will need to make up the deficit a bit more aggressively to meet our Improvement Rate goals.  We're going to use the Adaptive Planner's one-click workout creation feature to schedule workouts on Wednesday, Thursday and Friday:
Notice that the automatically generated workouts take into account the Training Status at that time. Because this rider is Fresh (blue stars) the Adaptive Planner scheduled a high intensity workout called "Highway Star". By May 10th the athlete is Tired (yellow stars) and so an Endurance workout is automatically selected ("Lucy in the Sky with Diamonds"). On May 11th the athlete has become Very Tired (red stars) so Recovery has been automatically selected. On Saturday, this athlete typically does a group ride called 'Espresso', listed in his Favourites. We can drag-and-drop this activity onto the Planner:
The athlete can also add 'manual' activities – activities that aren't being tracked by a power meter or other device – by clicking on an empty part of the day in the calendar to bring up the Adaptive Planner, then clicking the 'Show / Enter Activity Data' button in the upper right corner. Here the athlete can update the XSS, Focus and Specificity (we recommend these be added, at minimum).

When we click on Sunday we can see that the athlete is now caught up and has closed the XSS deficit (they could choose a Recovery workout or decide to take Sunday off):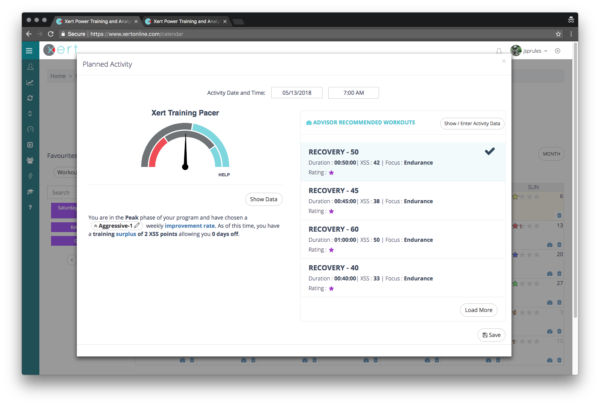 Using the Weekly Stats button, let's see how the week looks: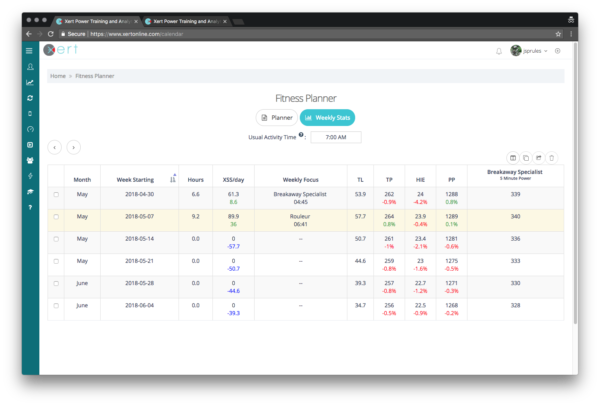 Let's add Ramp Rate as a column to see how we are improving. Click the 'Show / Hide Columns' button in the upper right to bring up the menu, and select 'Ramp Rate'. It now appears in the table.
We can see that this rider is doing pretty well. They have 9.2 hours planned (just below the 10 hour goal) and see an increase of 3.8 in the Training Load as the weekly Ramp Rate, just below their goal of 4 (Aggressive-1).  Their Focus for the week is Rouleur, adjacent to their Peek Phase target of Breakaway Specialist – near perfect.  Given that this athlete started with a large deficit at the beginning of the week, this would be a solid week to help deliver them to their goal date.
Conclusions
"Everyone has a plan 'til they get punched in the mouth." Mike Tyson
Planning in advance without taking into account where you will be in your plan and the variations that will occur as life unfolds is not likely to result in an optimal plan. Xert's Adaptive Planner can  help you schedule your training such that it fits into your available time and assists you towards meeting your goals, accounting for day-to-day freshness in the process – a turnkey solution for athletes looking to take advantage of the latest tools and innovations to help them be the best they can be.