We were lucky enough to race on the 2018 Canadian National Cyclocross Championships course during a recent club race – and course test – put on by the well organized Peterborough Cycling Club in late September. As expected, we captured all the power data. Here is the analysis you need to make sure you're ready for this UCI race on November 10-11, 2018.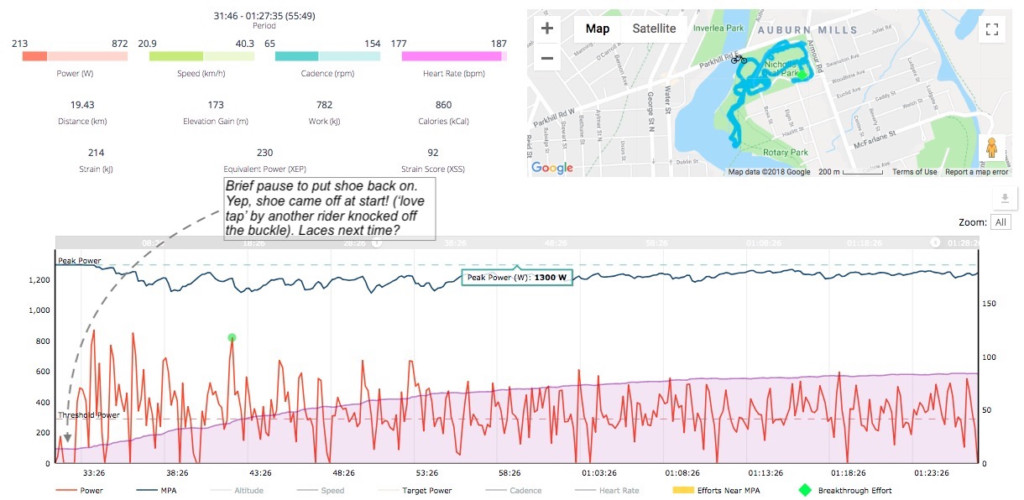 Firstly, many people remarked after the race that this was a "power course". It had several long stretches of high-speed, flat-ish, big power riding and seemed to cater to riders capable of producing big power over slightly longer durations. We saw this in the data too. The Focus for the course/race was 'Breakaway Specialist', with a focus of nearly 5 minutes. That's a bit longer than a typical cyclocross event, which is more often a 'Puncheur' (4 minute w/kg) or 'Pursuiter' (3-4 minute) Focus. To demonstrate the impact the course has on the power profile, a race held at the same park – but on a different course – the weekend before had a Focus of 3:28 minutes. Note that according to race organizers it sounds like some of the long stretches will have some technical turns added to them, likely making this a more 'punchy' race course than we saw at the test event.

The second thing you'll notice is that my MPA didn't come down as far in this race compared to the race the weekend before. That's because this course had two run-ups (one long, one short) compared to only one barrier the prior weekend. Because I wasn't using a sensor to capture running power – and therefore running Strain – the MPA chart shows my MPA recovering during these gaps. In these instances my MPA recovered by around 50W.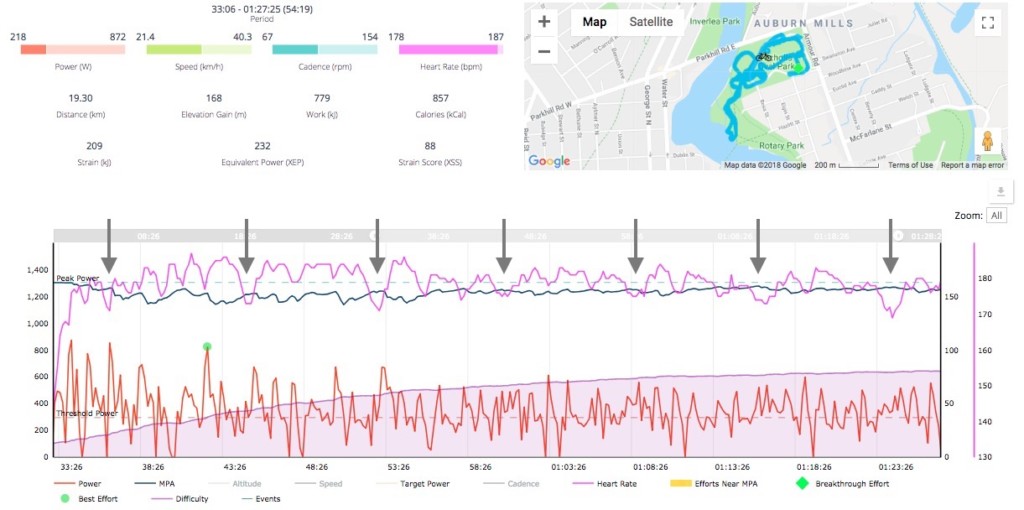 However, there was ONE true recovery point on this course and it can be seen with heart rate and MPA. A ~200m straight section on tarmac followed by a steep descent allows for a bit of respite. In the image above you can see this recovery every lap with my heart rate recovering by about 10 bpm early in the race, but as the difficulty accumulates throughout the race this recover lessens to about 5bpm. Likewise, my MPA recovered by 30-50watts each time.

In terms of fatigue, one way to look at this is XEP. Using the zoom feature on the MPA chart I isolated each lap to see my XEP for each of them. My XEP per lap on the first two laps were pretty strong, then I began to fatigue, and pushed a little harder on the last lap for the finish (leave it all on the race course!).
So what did I learn about the Canadian Nationals Cyclocross course that YOU can use?
Train to a Breakaway Focus. In addition to needing the ability to accelerate over and over again as is typical in cyclocross, for this course building up the ability to push harder a little longer will serve you well.
Build up to be able to handle 120-150 XSS / hour (if you're racing that long).

This race produced about 100XSS / hr for me (excluding XSS from the run ups). Practice workouts like SMART – Welcome to the Machine, SMART – Runnin' with the Devil, and Cheung CX – Draining the Swamp, which are all high XSS / hour workouts, to build up the toughness & required to keep hammering until the end of the race.

Save something in the tank for the end. It's a tough course and you'll pay dearly for not having something in reserve to either win a battle or to hold off a late race charge by someone else on the last lap.
Do some steep-hill running.

Not just any running though, practice your dismounts coming into a steep climb, hoisting your bike on your shoulder, and running up steep hills of between 5 seconds (VERY steep) and 30 seconds (moderate incline). Hop off your bike when you still have plenty of moment so that you can hit the ground running, not stopped or stepping back off the bike.
For everyone riding in this year's National Cyclocross Championships, happy training and good luck! We'll see you there… #tapetotape