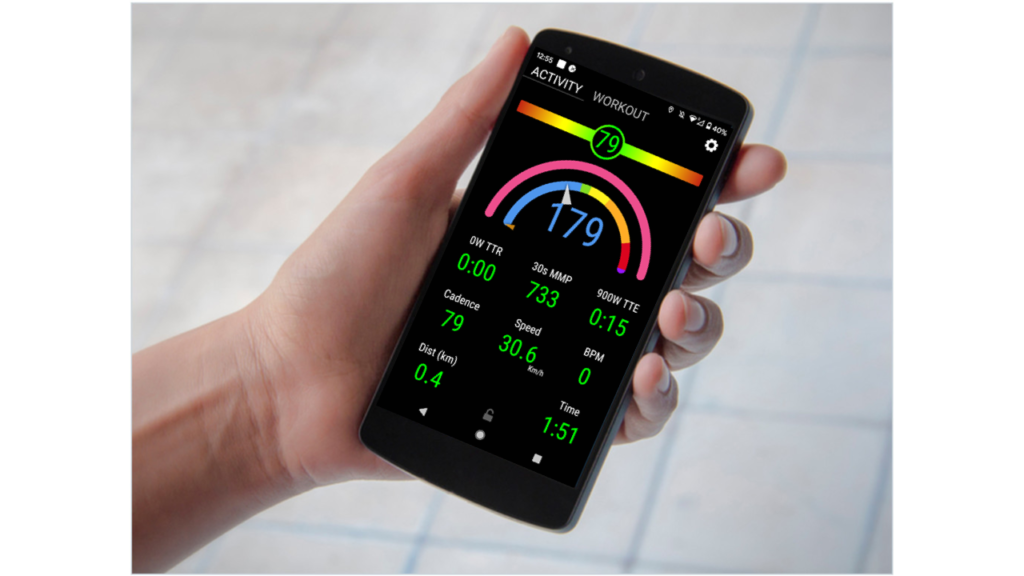 Setting Up Your Smart Trainer with Xert Mobile
Xert Mobile for Android can be configured to work with your smart trainer where it will control the power to match those of the workout you are performing. What's important to remember is that the software works best and most reliably with trainers that support the ANT+ Fitness Equipment and Control (ANT+ FE-C) standard. The Android app also works with any BT trainer that is supported with FTMS protocol.
If pairing to your trainer/sensors via BT, skip to Pairing Your Sensors below. If you're using ANT+ to pair to your Smart Trainer or Fitness Sensors, follow these additional steps:
Ensure you have an Android Version 4.4 or higher phone that supports USB "On-the-go" (OTG) adapters.  You will also need an OTG cable and an ANT+ USB Stick. After plugging in the adapter and ANT+ stick, the Android may ask for your permission to connect to the USB device.  Choose "OK".
Go to the Google Play store and search and install the following apps: Xert Mobile, ANT+ Radio Service, ANT+ Plugins Service, ANT+ USB Service: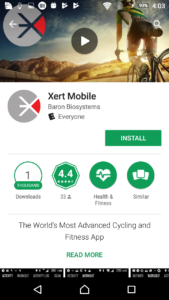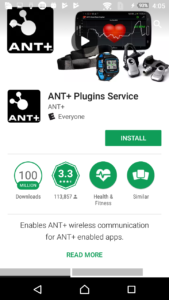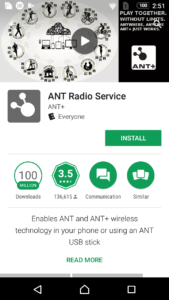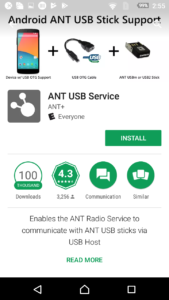 Note that if your phone has an ANT+ antenna already built-in (many Samsung and Sony devices already come with ANT+ built-in) you won't need to install the ANT+ USB Service and they do not require an external ANT+ stick).
Pairing Your Sensors
Launch Xert Mobile.  Use your Xert username (not email address) and password to login.
 Go to MENU > SETTINGS, or begin an activity and select the gear icon in the top right-hand corner to  bring up the Sensor Pairing Menu.  Wake up your sensors by turning your pedals, plugging in your smart trainer, wearing your Heart Rate Monitor, etc. If you have Bluetooth off in the Android system settings, you'll only see ANT+ devices on this page. If you don't see your sensor listed, ensure it's awake and swipe down to refresh the scan for nearby sensors.


POWER – select which power meter/source that you want read into the .fit file. Generally, you should use an on-bike power meter, or your Smart Trainer if you do not have a dedicated power meter
TRAINER CONTROL – pair your Smart trainer here. Xert Mobile will automatically Powermatch if you pair a Power meter other than your Smart Trainer. Note that if you're using your Smart trainer for your power source, you need to pair it both as TRAINER CONTROL and POWER
HEART RATE – Pair your HRM here
CADENCE – If you have a cadence sensor or a power meter that broadcasts cadence data, pair it here
SPEED – When indoors, select the option 'Speed from Power'. If riding outdoors, select the options 'Speed from GPS'.

You're now all set.  For the first time setup, particularly if you enabled/disabled sensors or made numerous changes, you may also choose to RESTART the app – back out of the Sensor Pairing menu, force close the app, and restart the app.
Main Display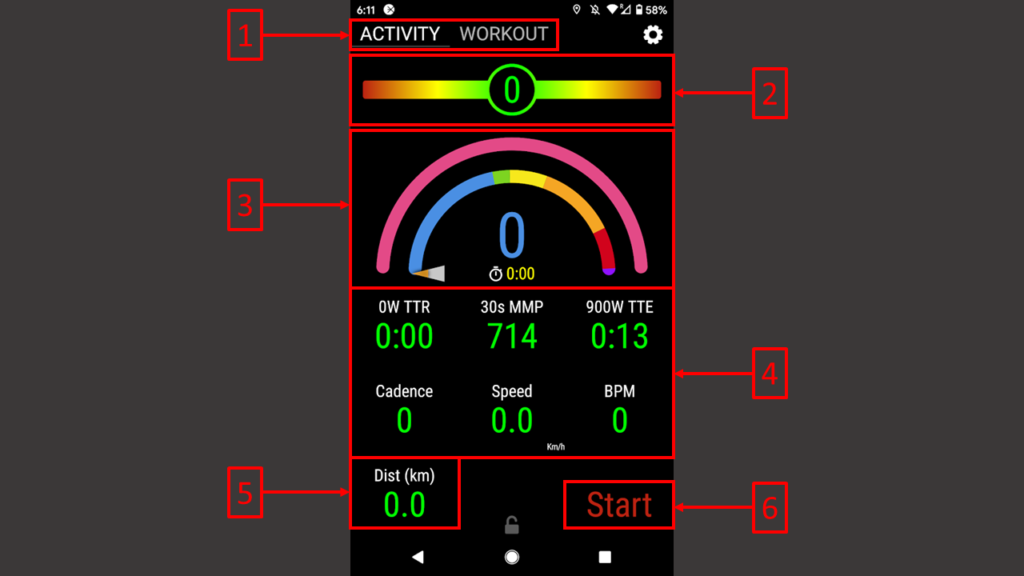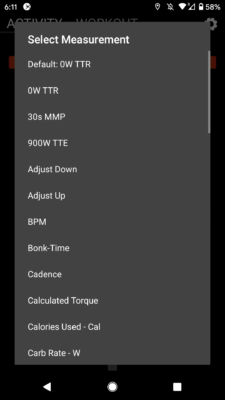 Activity/Workout Tabs – From here, you can toggle back and forth between the activity screen, loaded with customizeable displays and the workout tab, which features workout interval intensities, durations, and where you can perform various interval actions
Bioshift Cadence Optimizer – The gauge slides to the right when you're pedaling too fast and slides left when you're pedaling too slow, relative to Bioshift's determined optimal cadence for your current power output.
MPA Gauges – The outer pink line represents ___. The inner, multicolored gauge displays your current power output (grey arrow) along with the target power of the next interval (orange – displayed when you're performing a workout). The timer at the bottom of the gauges displays the time left for the current interval (when performing a workout). The different colors of the multicolored gauge indicate your power intensity relative to your signature.

Blue = Below LTP
Green = Between LTP and TP
Yellow = Above TP
Orange = TTE < 3 min
Red = TTE < 30 seconds
Purple = Breakthrough!

Customizable Display – You can customize the data fields shown on the Activity page. To change it, tap and hold a cell to bring up the cell display options – a screenshot of some available options is displayed above.

Here you can choose what measurement/item to display during your activity.  Some selections related to operation with your smart trainer are listed below. Once any of these are added to your screen, tap on them to change their settings

Trainer Power: This cell will show the power data coming from the Trainer.  Often this is good to see the discrepancy between your power meter and your power meter
Trainer Resistance: This cell will enable you to adjust the trainer resistance.
Trainer Slope: This cell will enable you to adjust the trainer slope.
Erg Mode: This cell will enable you to adjust the trainer power.

Distance Traveled – If riding outdoors, tap this cell to see a map of where you've traveled.
Start/Stop Activity – Tap this cell to begin your activity or workout. Once the activity is started, the cell will display the total elapsed time of your activity. Press the cell to pause the activity – from there you will have the option to Resume, Save the Activity, Discard the activity, or begin a new workout.
Performing a Workout
To perform a workout, slide to the WORKOUT tab (or simply tap WORKOUT).  Tap SELECT to bring up your workout library.  Your workout that is currently selected on Xert Online is displayed. If this is the workout you wish to perform, simply tap the play button.  If you wish to choose another workout, tap ALL and search/choose your workout from the list: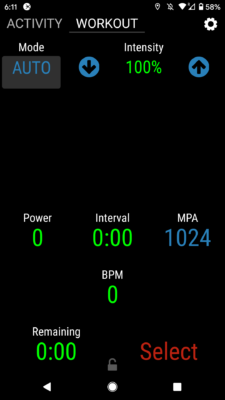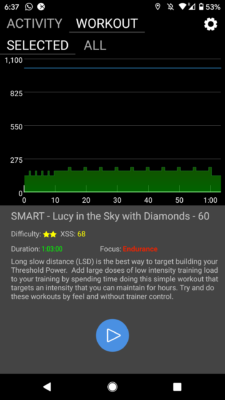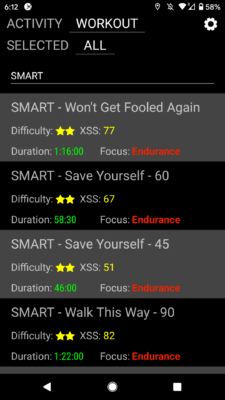 After tapping and choosing a workout, you're now ready to start the workout.  Tap the play button on the workout and your workout recording will automatically start recording with trainer control.
Controlling Your Workout
During the workout, you can tap ELAPSED on the bottom right to pause the workout. Pausing the workout also brings up a menu of available options: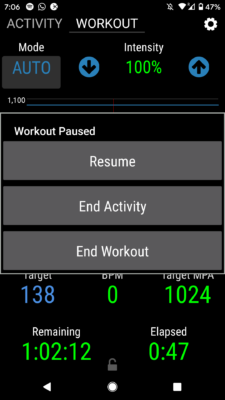 RESUME – resumes the workout from the paused time
END ACTIVITY –  allows you to end the current activity. After ending the activity, you can choose to either discard or save the activity to Xert (Note: if you tapped your Android's 'back' button by mistake, select RESUME to get back to the workout or activity screen, and end & save the activity from there).
END WORKOUT – finishes the workout, but allows you to continue recording. This is handy if you would like an extended cooldown, or need to continue recording until you're home.
You can also tap on the Interval Timer to perform interval actions: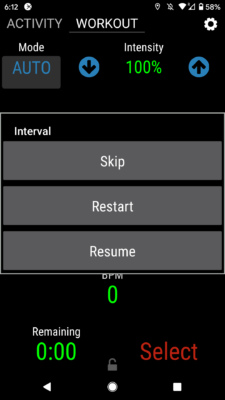 SKIP – skips the current interval
RESTART – restarts the current interval
RESUME – resumes the interval
Tapping the Target Power cell enables you to adjust the power of a single interval up or down in 5 W increments. Note:  you can also toggle the intensity of the entire workout by pressing the up/down arrows next to INTENSITY.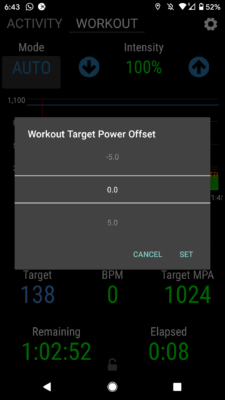 Advanced Features – Trainer Modes
Xert Mobile for Android can control your smart trainer in several different modes, allowing you to follow along the workouts by using your cadence and gearing.  To control your trainer (outside of a workout session), start your activity using the START button on the ACTIVITY tab. From there, switch to the WORKOUT tab and tap on the Trainer MODE cell, which will toggle between AUTO, RESISTANCE, SLOPE, ERG, and OFF. You can read about the various trainer modes in our article HERE.
Troubleshooting
Resistance doesn't feel right: Ensure you are in AUTO trainer mode.
Power is not being controlled or is variable: Check that you don't have another program controlling your trainer.  Only one program or app can control your trainer at a given time.
Data suddenly stopped coming in or numbers are "stuck".  If your Android is busy doing other tasks, it may inadvertently stop Xert's services that are used to collect data behind the scenes.  Swipe down from the top (twice on some phones) to see if the Xert Service is Running.  If you don't see a notification for Xert background service, you may need to restart your activity.  Other times the ANT+ services stop functioning.  When any of these happen, your best bet is to force close Xert and reopen. After force closing the app, you can restart the app and tap the play button. Your workout/activity should still be running and you can resume. If the ANT+ radio/plugin services become unstable or stop functioning, you may need to reboot the Android phone to brings things back to normal again.  It is advisable to have as few apps as possible running at the same time as Xert Mobile in order to help avoid data loss.