Xert Sessions can be performed with Zoom as the main focal point on the Session Player. This creates a broad set of opportunities for coaches, instructors, even researchers to engage with their athletes in real time as they perform their training. Coaches/instructors can demonstrate the training they would like their athletes to perform as athlete's perform it. This unique combination and athlete specific training together with video instruction or two-way communication between athlete and coach opens up many new possibilities.
In addition to being used for instruction, Xert Sessions with Zoom can be use for team sessions and friendly group workouts. Talk or video with your teammates or riding partners in real time during your training for improved motivation and thus better overall training benefits. Everyone gets a bit more motivated and accountable when they ride together as a group.
In this support article, we'll walk you through how to get Zoom working with Xert Sessions. We'll cover how to authorize your account with Zoom to create sessions, how to use Zoom within your sessions, & finally how to remove Zoom authorization from your account.
Step 1: Authorizing Zoom
To create a group session, you'll first need to be a member of an Xert Community – this can be a Club, Team, Squad or Coach.
Want to create your own community? Check out our documentation to do that here.
Zoom will be used for athletes to interact with one another, or with their coach, within Xert Sessions. To authorize your Zoom account in Xert, use the Xert Sessions – Zoom menu option under Apps to open the Zoom page:
Open Xert Sessions – Zoom and follow the link to authorize your Zoom account.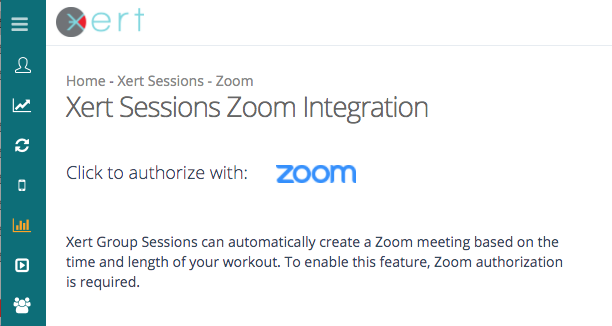 Click on the Zoom icon, and you'll be prompted to authenticate with your Zoom email & password.
Once your Zoom account has been authenticated, you're set to go and create a group session with Zoom!
Step 2: Creating a Session with a Zoom Meeting
Now that you've authorized your Zoom account with Xert, we'll walk you through how to start the zoom meeting and interact with Zoom in the Xert Session Player.
When creating the session, toggle the Session type from 'Solo' to 'Group'.

On the 'Share' tab, select the Xert Community you'd like to share the session with.

On the 'Workout' tab, select the workout you'd like to use for the group session.

On the 'Media' tab, you'll be presented an option to enable either YouTube or Zoom – select the Zoom option. A preview of the session with Zoom is presented on the right-hand side of the screen. After selecting Zoom as the primary media type, (and assuming you've already authorized your Zoom account), you'll have an option to 'Auto-Create Meeting'. If left checked, a meeting is automatically generated (using your Zoom account) when the session is saved. If left checked, a meeting is automatically generated (using your Zoom account) when the session is saved.

That's it! You've now authorized Zoom to Automatically generate meetings to accompany your group sessions! Note that if you wish to manually create a Zoom meeting, you un-check the 'Auto-Create Meeting' option and paste the URL from the meeting invite in the space provided below the Zoom authorization.
IMPORTANT NOTE: We recommend that only Zoom Premium members create group sessions with Zoom calls. Zoom Free members will be subject to the 40 min time limit for Zoom Meetings with 3+ members.
Step 3: Using Zoom inside a Session
Firstly, it's important to note that the owner of the Zoom meeting will need to initiate the meeting using the Zoom application; the meeting cannot be started directly from the Xert Session Player! As the owner of the meeting, you'll have access to all the usual features there – disabling the waiting room, allowing users to unmute themselves, etc. For other members of the session, they'll have the option to join the Zoom meeting directly from the Xert Session player (once the meeting has been started by the creator).
The usual Xert metrics – MPA & Power gauges, Workout Chart, Leaderboard, etc. will be displayed around the Zoom interface:
Deauthorizing Zoom from Xert
If you wish to disconnect your Zoom account from your Xert account, navigate to Apps > Xert Sessions – Zoom. From there, you'll be able to select a link to Deauthorize Zoom: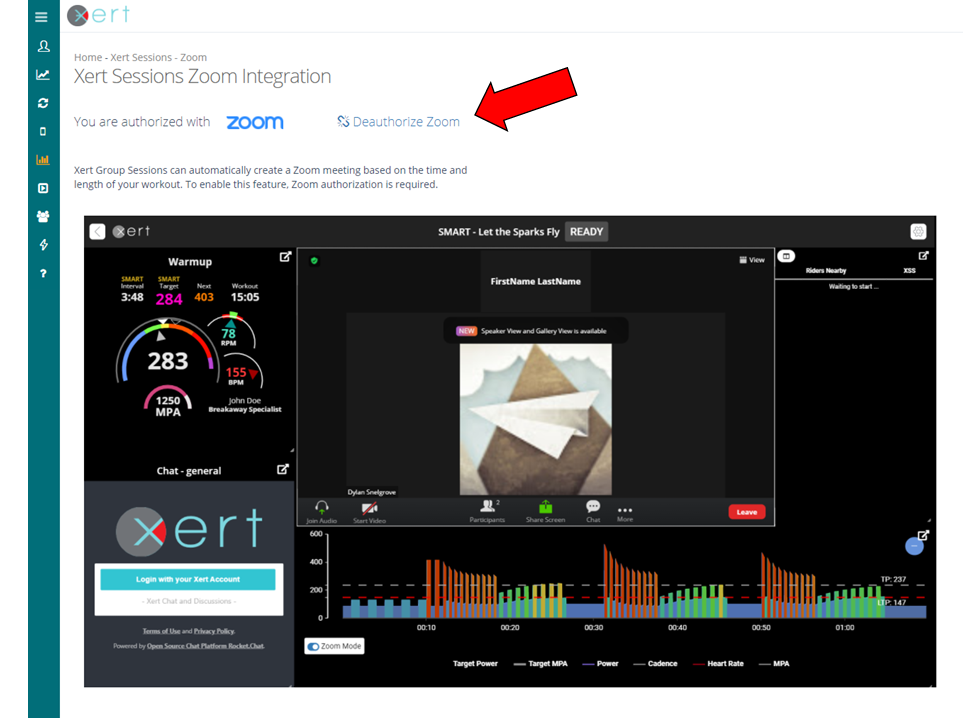 To full deauthorize Xert Sessions from your Zoom account, you'll need to deauthorize from the Zoom marketplace. To do this, follow the steps below:
Login to your Zoom account and navigate to the Zoom App Marketplace.
Click Manage > Installed Apps or search for the Xert Sessions App
Click the Xert Sessions App.
Click Uninstall
Frequently Asked Questions
What Zoom data does Xert access?

View and mange your Meetings: We use this to create and update Zoom meetings on your behalf for use with Xert Sessions.
View your user information: We use this information to link your Zoom Account to your Xert Account.

Does Xert affect Zoom meetings outside of those created for sessions?

No, Xert is only able to generate/edit meetings that are created to accompany Xert Group Sessions.
Need more help?
Open a ticket with our Xert Support Team via the support email.