This post walks a new user of Xert through how to add activities to your Xert account. This is an important first step because the more data Xert has to analyze, the more accurate it is. If you uploaded your data when you first set up your account, you read already set to go. But if you didn't, or you'd like to add more activities after starting up your subscription, you can follow a few easy steps outlined below.
Before beginning, a quick note about terminology. In Xert, 'Activities' are your rides, runs, races, etc. They include the data captured by your power meter and on-board computer. Fo example, if you're using a Garmin computer each activity file may contain power, speed, duration, GPS, elevation, and much more.
Let's get started…
Ideally, Xert works best when it can analyze data from your history to establish patterns between your training and your ability to perform.  Upload/sync as many activities as you have; three months of data should be the minimum, but more is always better.
There are a number of ways to do this depending on what services, software and tools you've used in the past.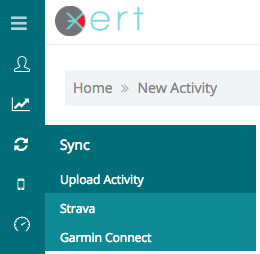 Strava
If you skipped configuring your Strava account when you first setup your account, you can link your Strava account using the Strava link on the menu bar under Sync: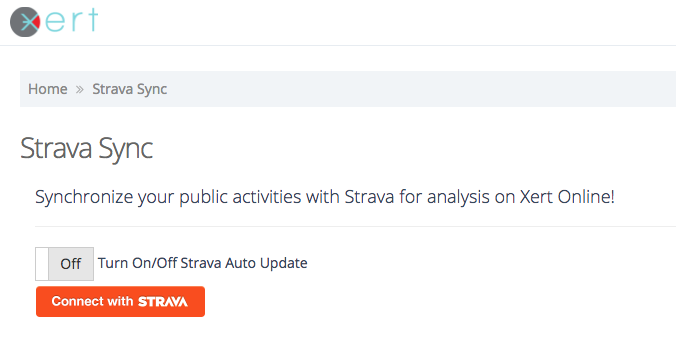 Click on the Connect with STRAVA button and you'll be prompted to login (if not already logged in) to Strava and authorize the Xert app. 
Enable Strava Auto Update if you'd like to have Xert update your activities on Strava with information on breakthroughs that you achieve using Xert.

To import your activities for the first time click on the grey box containing the date range and select the range you'd like. Remember, the more history Xert has to work with the better. Once the table is updated with the activities, you can select individual activities by checking off the squares on the left side of the table, or all of the activities by checking off the box in the upper left corner of the table. Then press the 'Sync' button on the bottom left of the table.
Click here for a more detailed step-by-step guide on how to upload your activities. 
Garmin Connect
Unlike the Strava link the interface to Garmin Connect only allows future activities to be automatically synchronized.  No historical activities can be synchronized at this time.
To link your Garmin Connect account with Xert, use the menu option Garmin Connect under Sync. Click the dark blue connect button. You will need to sign in with the credentials you typically use to login to your Garmin Connect account, and then click the 'Authorize' button. Activities will automatically sync from now on. 

Training Peaks
You can also import files from TrainingPeaks but it's a more manual process; unfortunately TrainingPeaks no longer allows third-parties from accessing data on TrainingPeaks. Follow this FAQ on how to upload your historical activities from TrainingPeaks.
Upload your Activity Files
To upload your historical activities manually, your best option is to plug in your bike computer into to your computer's USB port and using the Upload Activity menu option under Sync, navigate to the folder on your device that has your activities, select them and upload them to the system.  Xert will then queue them up for processing on the system.  Depending on the number of activities, it may take a few seconds to several minutes to process them.

Manually Create Activities
To create a manual activity, use the Fitness Planner and click on the date of your activity: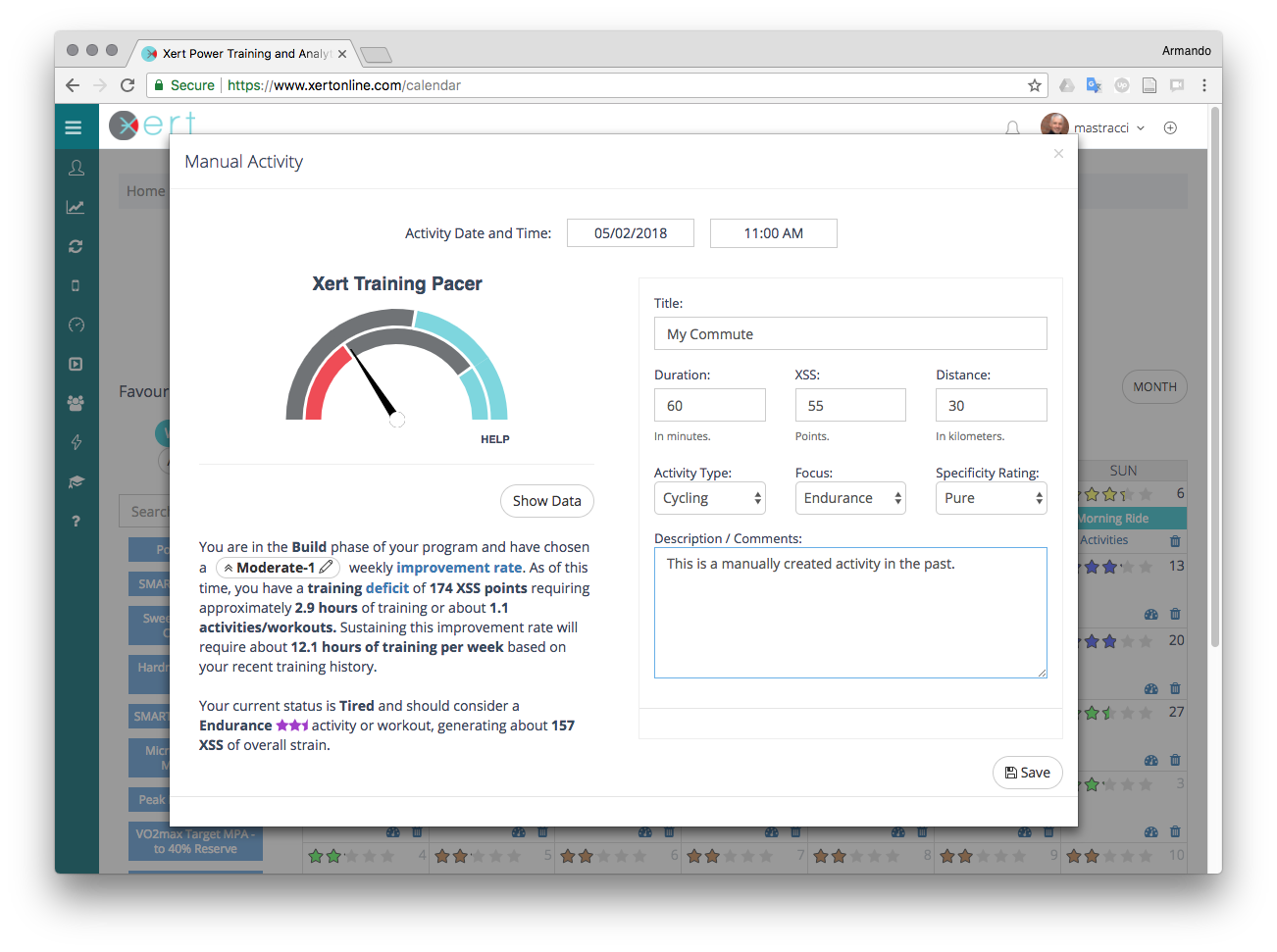 You're ready to Xert!
Xert will analyze your uploaded/synced activities one-by-one, second-by-second, to determine your Fitness Signature for each activity. Using the goals you set for yourself – target event date, athlete type, and improvement rate – and your historical performance and training history, the Xert Adaptive Training Advisor will maintain a customized plan for you and serve you specific workouts tailor-made to help you reach your goals. And every time you upload a new activity, Xert will analyze the data to update your plan.
Happy Training.
P.S. For more posts for new users click the tag 'Beginner' below.