The Xert Remote Player is a web-based app that receives data being collected and processed by your Garmin Edge Connect IQ device or Xert Mobile for Android and displays the data in real-time via your browser.
You can view the Remote Player from any device with recent browser such as your PC, tablet or mobile phone: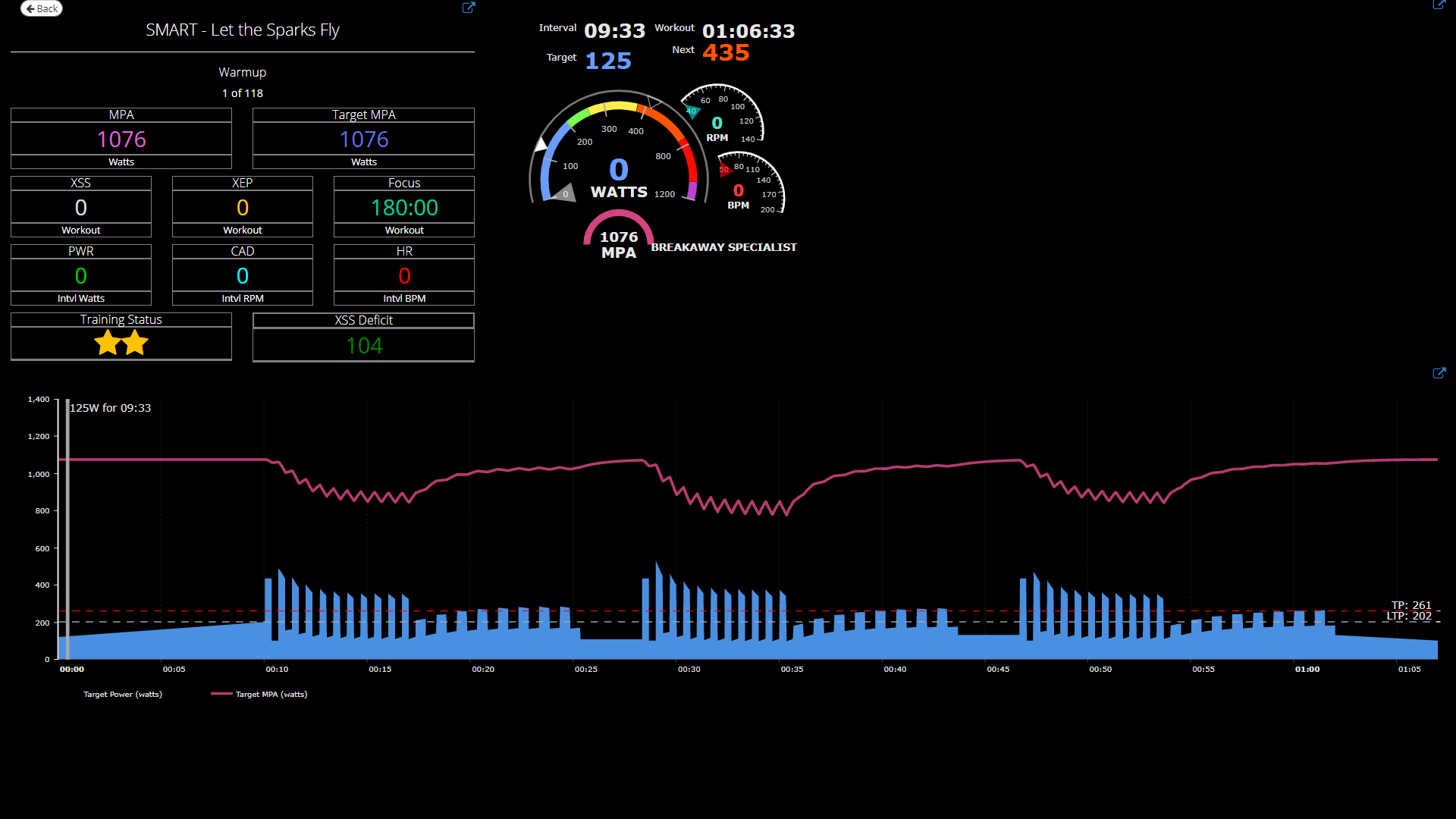 You can open the Remote Player in its own dedicated window, resize the window and use browser zoom in/out features (CTL – and CTL + on MS Windows or Command- and Command+ on MacOSX) to make the elements in the window larger or smaller.
The Remote Player has 3 sections:
Section
Features
Summary / Header
MPA – Current MPA
Target MPA – Your expected MPA at the end of your interval
XSS – Cumulative Xert Strain Score
XEP- Current activity Xert Equivalent Power
Focus – Current activity Focus Duration
PWR – Average Interval Power
CAD – Average Interval Cadence
HR – Average Interval Heart Rate
Training Status: Indicates starting training load & freshness
XSS Deficit: Indicates the current XSS deficit or surplus – updates as the workout progresses
Chart
Workout MPA – Pink line (toggled to 'off' position by default)
Workout Power Target – Blue Profile
Progress Indicator – White Vertical Line
Threshold Power – Horizontal red dashed line
LTP – Horizontal white dashed line
Gauges & Timers
Interval Timer – Indicates remaining time of current interval
Target – Indicates the current interval target (also displays SMART for XSSR or SMART power intervals & SLOPE (%) for any SLOPE intervals)
Workout Timer – Indicates the remaining time of entire workout
Next – Indicates the starting power of the next interval

Current Power – Center of gauge
Current MPA – Bottom of power gauge
MPA and higher – Purple Band
30s Power and higher – Red Band
3min Power and higher – Orange Band
Near Threshold and higher – Yellow Band
Lower Threshold Power to FTP – Green Band
Below Lower Threshold Power – Blue Band
Current Interval Target Power Indicator – White Perimeter Triangle
Next Interval Target Power Indicator – Transparent Perimeter Triangle
Teal Gauge – Cadence with green band indicating optimal cadence
Red Gauge – Heart Rate
Each section has small pop-out icon in the top right:

Click the icon to pop out the section and resize/zoom so that you can place that one section over your favourite cycling app like Zwift, Sufferfest Video or even your favourite show or cycling YouTube video.
Trainer Control with other apps
In order to avoid conflict of having more than one app control your smart trainer, you will have to choose how you'd like to perform the Xert workout and setup apps accordingly.  There are two ways to perform Xert smart workouts with other apps:
Have Xert control the trainer with the Xert Workout Player for CIQ or Xert Mobile.
Have your other app (Zwift, etc.) control the trainer and you use the slider/target power on our apps together with gearing to match the target power.
To use Option 1. you'll need to remove the smart trainer from your other apps so that they don't interfere with the trainer control being performed by the Xert CIQ or Xert Mobile app.
To use Option 2. disable trainer control from our CIQ app by tapping menu (Edge 1000, 820 series) or click the BACK (Edge 520 series) and choose OFF.  From Xert Mobile, use the Scan menu and uncheck FE-C under your smart trainer's configuration dialog.