Welcome to Xert Sessions! Most of you have likely used the word "sessions" in your training. At Xert, we're using this term to help distinguish between:
Activity – Something you record on your app/bike computer/wearable that has all the data and information of what you did. It's a record of your exercise.
Workout – A pattern of intervals that you follow to help you obtain a certain desired outcome or improvement. (Unlike other systems, the term workout is used only to define this pattern in Xert).
Session

– An activity or workout you plan on doing at a certain time, either solo or with a group. Generally a session can have many things associated with it such as a start time, group members, media and/or a workout that's has been chosen. In the future, we plan to add other elements to a session such as a planned route, turning the session into becoming planned group rides.
Doing group workout sessions in Xert is a unique experience since the ability for Xert to administer training doses that are equal for all members and that feel the same for everyone is at the heart of what makes Xert group sessions so effective. It's well known that doing workouts as a %FTP is problematic. This has made group workouts a challenge in the past. With Xert, you can feel confident in joining group sessions knowing that everyone is there getting the same benefit as everyone else.
Let's help you get started on doing your first Xert Session…
Joining a Public or Invited Session
Start by heading to the Xert Sessions page. From here, you'll see all upcoming Sessions that are public, sessions that you've been invited to, or sessions that have been scheduled for you by your coach: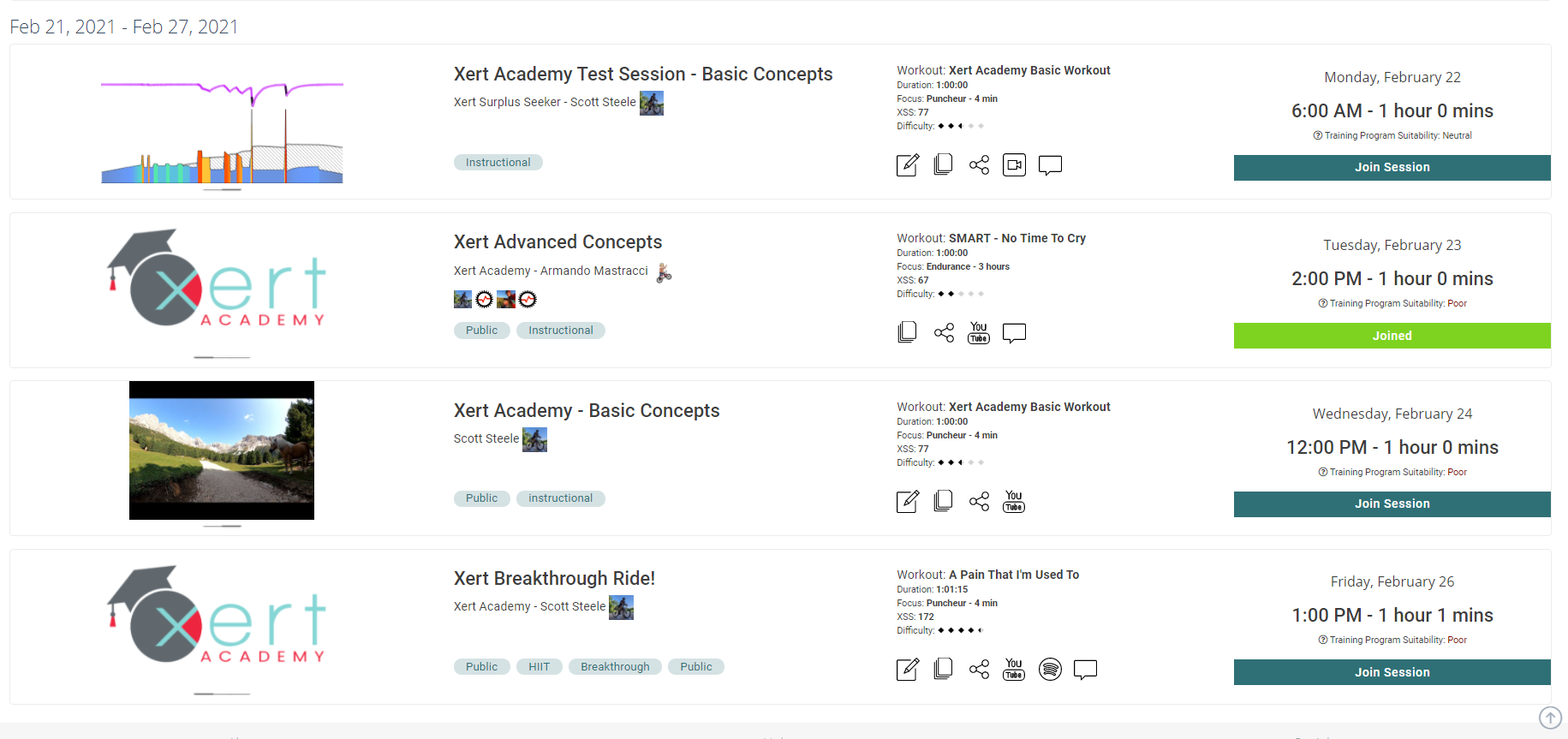 If the session organizer has specified a YouTube video, Spotify Playlist, and/or a Zoom link, you can click/tap their respective icons to view them.
To join a session, you'll simply need to click the 'Join Session' button. After joining, you'll notice that your profile image will display alongside the other attending riders.
In the previous support article, we showed you how to create your own group sessions for your Xert Communities – Clubs, Teams, & Squads. Sessions are group workouts or rides that you can participate in as a member of an Xert community. There's even a set of Xert Academy Sessions available for those wanting to learn more about how Xert works while getting their workout done! These sessions are displayed remotely on any browser, which collects the data being captured from supported apps on an iOS or Android device.
Launching & Using the Session Player
When your session is less than 2 hours away, you'll notice that the sessions page will allow you to select 'Open Player'. You'll be presented with a page that looks like this: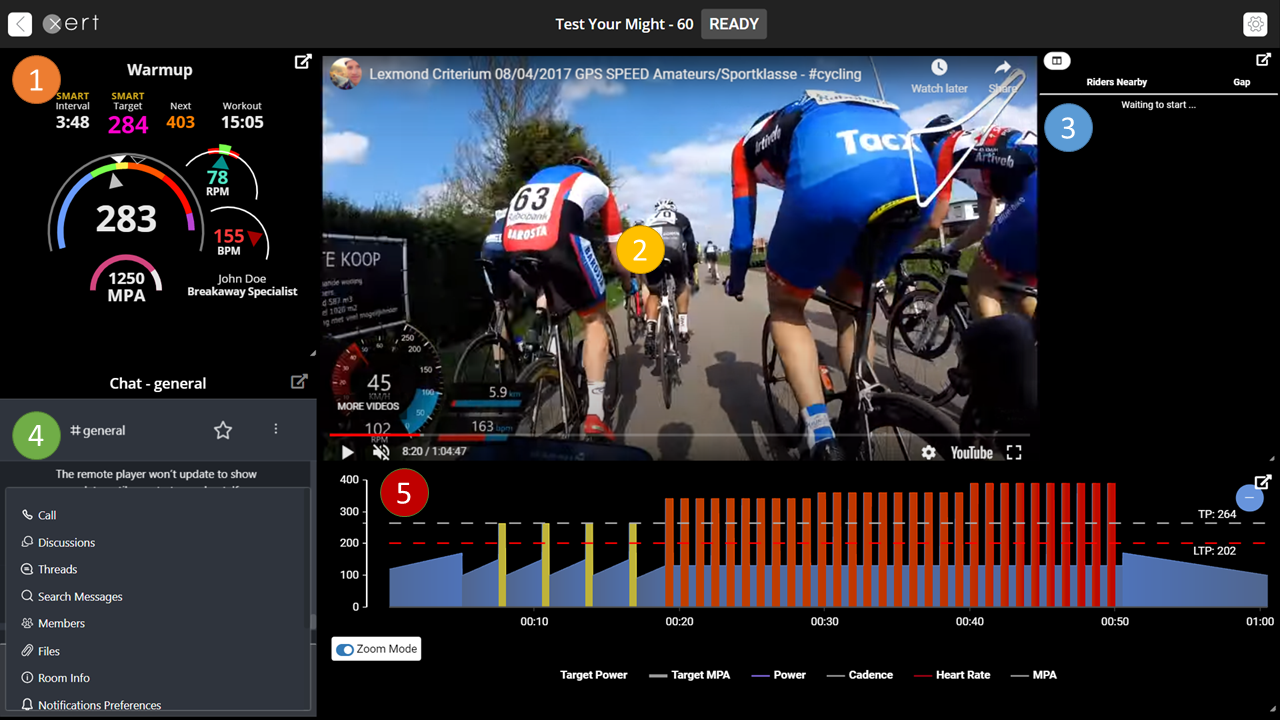 The session player has 5 main elements: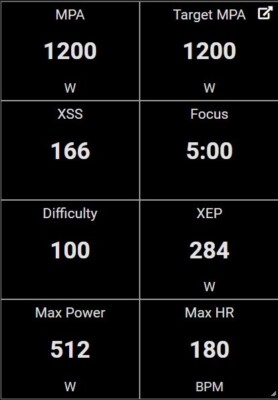 The MPA & Power Gauge – Indicates power outputs, interval target types, intensities, & durations, etc, as well as your Cadence & HR data
Video Overlay – If the Session creator has selected a YouTube video to be displayed, then the video will be displayed in the center of the display. However, users can decide to resize/overlay other windows over this part of the page (such as Netflix, Spotify, etc.)
Leaderboard / "Solo-board" – In group sessions, you'll be presented with a list of 'Nearby Riders', or other athletes that are riding the session with you. Tapping the columns icon on the top left allows you to filter by a wide variety of different metrics, such as XSS, Difficulty, Relative Intensity (relative to fitness signature), etc. When riding alone in a session, the leaderboard will be replaced with a panel of detailed, individual metrics, including Max HR, Max Power, Difficulty Score, etc. Preview of solo-board is displayed to the right!
Chat – Xert has included integration with Rocket Chat, so athletes can chat with one another during their sessions. Once you've authorized your Xert account with RocketChat, you can chat directly from the sessions page (for those with wireless mice/keyboards), or you can download and install the RocketChat app on your mobile device.
Workout Chart – Indicates your target/current power, MPA, and HR. You can click to enable/disable any of the metrics being displayed along the bottom of the graph. By default, target/actual MPA are disabled, to make viewing the interval targets a little easier. When the workout begins, you'll automatically be set to Zoomed mode, which displays a 10 min rolling window. Disabling zoomed mode will show the entire workout in a single frame (suitable for larger monitors/displays).
NOTE: The Xert Session Player is a web page with all the session and workout details. You'll use this page during the session to view your workout information. Unlike other systems that use desktop software connected to ANT+ or Bluetooth sensors, our system does not use an ANT+ stick for your computer. Rather, the session player gets your data information from the Xert app running on your phone/mobile device. See below to get that set up.
Xert Academy Instructional Sessions
You'll notice some public, instructional sessions posted from Xert Academy! These are designed to help new (or even experienced) users learn more about the Xert platform and how it works! For these sessions, the Xert team will use a Zoom Meeting to share educational content. If you don't have Zoom installed, don't worry, you'll be able to can join the meeting directly from your web browser! One special thing to point out is that you'll need to push the 'Join Audio' to hear the presenter & other members of the Zoom session.
Keep in mind that in order to hear the presenters speak, you'll need to play the audio from your Laptop/Desktop. We recommend connecting a set of wireless headphones to your computer! You may also need to authorize your browser to access your microphone/headset in order to hear the presenter speaking.
Once the session player is opened, you'll be able to join the Zoom call, which will be displayed in the center of the screen, like the image below. To make the shared screen from the Zoom call bigger, you can tap the three icons next to other members of the Zoom call and select the option 'Hide Non-Video Participants" – this will make it a bit easier to see the content being shared on the Zoom call.
Starting the Session from the Xert Apps
Similar to the Session Video Player, the workout will become available 2 hours before it's scheduled time on Xert EBC (Android) or the Xert Player (iOS).
Xert EBC will display the upcoming session in the activities dashboard two hours before the session begins. Tapping on the session details will allow you to see the participants, workout details, etc. When the start time of the workout arrives, the workout will automatically begin playing on EBC, no need to start anything. The workout will always begin in AUTO mode.
If you'd like to warm up a little extra before the session, you can tap on the session and 'Start Warmup' when you are within 30 minutes of the scheduled start time. We recommend warming up with the trainer in Slope/Resistance mode. When the session begins, EBC will switch back into AUTO mode and start the workout – automatically.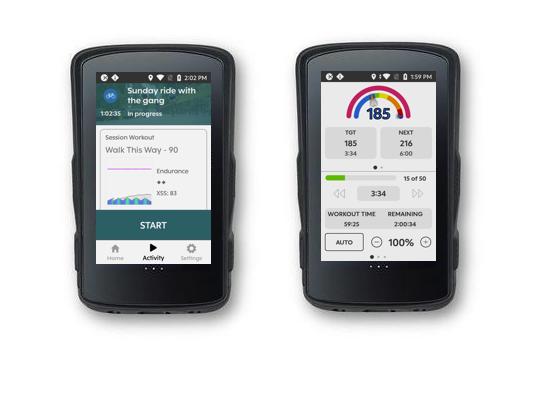 Xert Player on iOS will display the upcoming group workout from the 'Train' Tab along the bottom. Tapping the group workout will display the session details.
If you'd like to warm up a little extra before the session, you can tap on the session and select the Start button to begin an early warm-up. We recommend warming up with the trainer in Slope/Resistance mode. When the session begins, the Xert Player will switch back into AUTO mode and start the workout – automatically.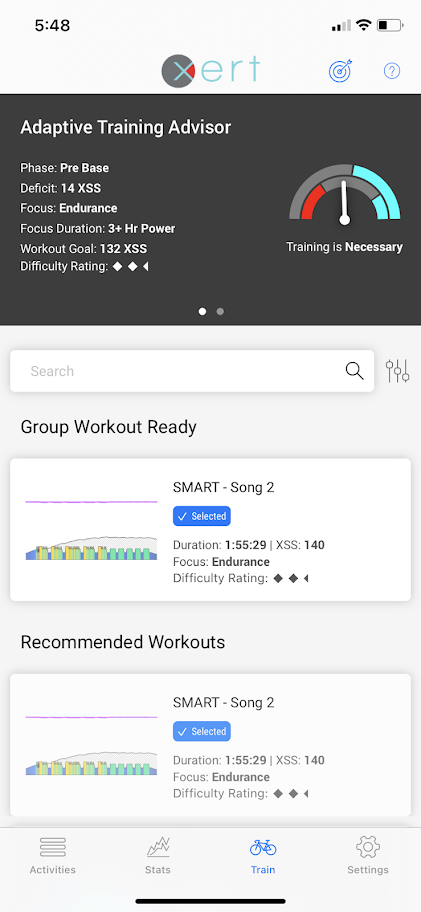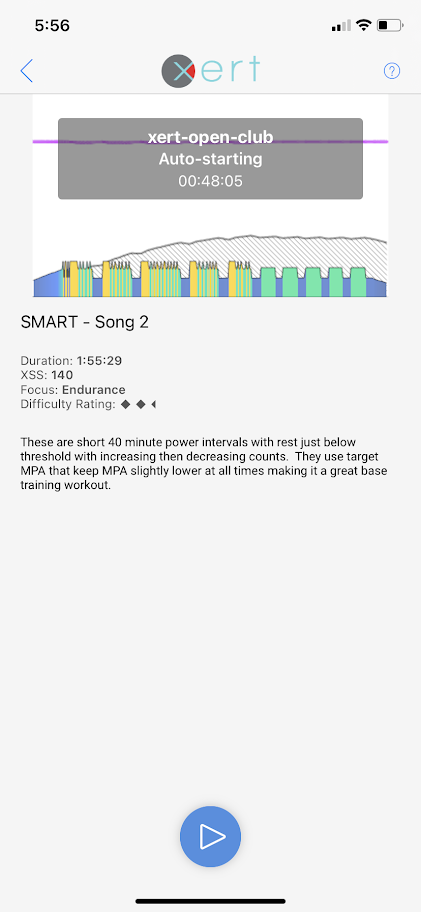 Troubleshooting