This provides a simpler way to view current Training Load and Recovery Load. The number of stars indicate the total amount of Training Load you have accumulated. The colour indicates the Form.  Freshness Feedback is used to offset your Form proportionally using your individual Training Loads.
Training Status Stars
0 Stars – Untrained: Training Load below 25
1 Star – Recreational: Training Load between 25 & 50
2 Stars – Trained: Training Load between 50 & 75
3 Stars – Competitive: Training Load between 75 & 110
4 Stars – Elite: Training Load between 110 & 150
5 Stars – Pro Level: Training Load above 150
NOTE: Freshness and tiredness status are representative of your data and NOT what you're feeling.  The algorithm doesn't know what other training you may be doing or what other conditions you may have.  ALWAYS account for how you are feeling in deciding how to use the Training Status and Form indicators and recommendations based on them.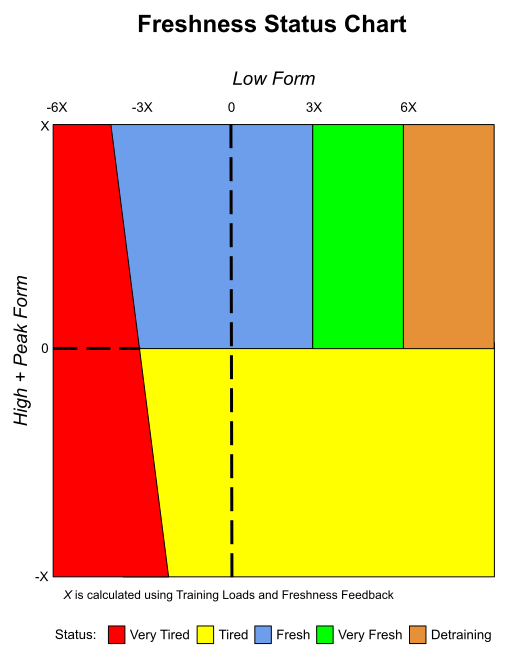 Status
Description
Training Advice Recommended
Freshness

Brown

– Detraining: Overall Form > 60% of Training Load

Green – Very Fresh: Overall Form >= 30% of Training Load

Blue – Fresh: Overall Form < 30% of Training Load AND High + Peak Form > 0

High Intensity Training, periodized based on
Program Phase and your selected Athlete Type
Tiredness

Yeslow

– Tired: Overall Form > -30% of Training Load AND High + Peak Form < 0

Red – Very Tired: Overall Form <= -30% of Training Load

Yellow

– Endurance Workouts (intensity below Threshold Power)


Red

– Active Recovery Workouts
*** X is based on Training Load and Freshness Feedback