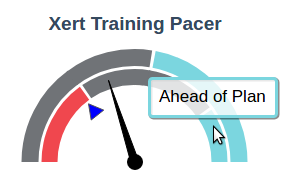 This gauge provides a visual representation of how your Training Load is 'pacing' over the last week vs your chosen Improvement Rate goal, and indicates whether or not you should train. It's based on your XSS surplus or deficit at this moment (on your My Fitness page), or at your chosen Usual Activity Time / Activity Time (in the Planner).
If your training is 'on-pace', the needle is pointing to the inner grey area. If you're tracking ahead of plan it will point to the inner turquoise area. And if you're falling behind it will point to the inner red area. It also indicates if you need to train (outer grey) or if training is optional (outer turquoise).    
A  second arrow (small triangle) represents where you will be 24 hours from now, and is colour-coded using the same colours as your Training Status:
Brown: Detraining – No constraints
Green: Very fresh – No constraints
Blue: Fresh – No constraints
Yellow: Tired – Endurance only
Red: Very tired – Recovery only
This second indicator can be interpreted as: "If I don't train today, where will I be tomorrow?" with the colour indicating what type of training you will likely have recommended by the system. No constraints means that the system won't avoid recommending a high-intensity workout if your program suggests it. Endurance only means that the system will lean towards suggesting an Endurance workout, and Recovery only means it will be a recovery day and only recovery workouts will be recommended.
N.B. If you have a planned activity in the Fitness Planner within the next 24 hours, the triangle may point to the right of the main needle as it is accounted for in the calculation.