Training Programs are currently set at 120 days and count backwards from your Target Event Date.  The first 45-days of your program is your Base Phase which incorporates mostly Endurance-focused training. The second 45-days is your Build Phase which starts to introduce greater intensity into your training. The final phase is your Peak Phase which lasts 30 days and targets your power for the Athlete Type you have selected.
Here is an example training program for a Puncheur.  In the base phase, training is focused on Endurance. In the peak phase, it is focused on Puncheur. In between, the change is periodized.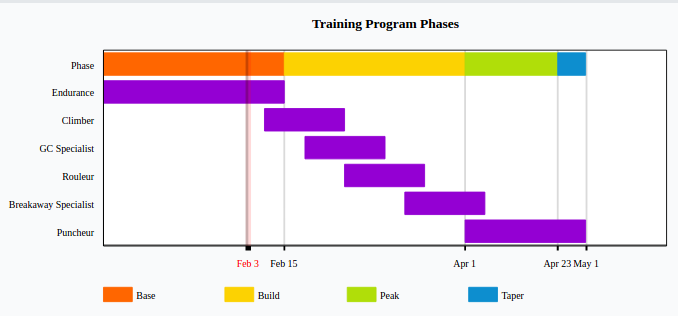 If your Training Program has not yet started, you are in the Pre Base phase of your program. If your Target Event Date is in the past, you're in the Post Event phase of your program. In both cases, there is no specific guidance used for the Focus of your training; the advisor simply offers a wider variety of workouts that are near your Athlete Type.