The guide will show you how to set up your Xert running account so that you can start training & racing with the combined power of your Stryd running power meter, and the insights & tools of Xert.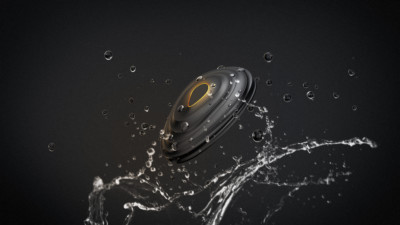 CONTENTS
---
If you're familiar with Xert and want to skip ahead to a specific section, click on one of the links below.
---
If you're new to Xert you may want to consult some additional resources to learn more about how the system works. Here are some key resources:
To get up and running to use your Stryd with Xert, here's what you need to do, and know:
---
If you also use Xert for your cycling data, you should keep this data separate with a different account. If you already have a Premium Annual account for one sport, Xert will provide you with a second account free of charge so that you can use Xert for your second sport. Contact support@xertonline.com to set this up.
SET UP AN XERT ACCOUNT
---
Create a trial account

At www.XertOnline.com, complete the registration process and log in. This account is free for 30 days.

Set your goals

Select your 'Athlete Type'

: There are a few things you should know about Athlete Types, Focus, and running…

Cycling power data is highly 'stochastic', which means it's highly variable. The terrain, where a rider might need to pedal very hard to climb a hill but not pedal at all on the way down the other side, responses to another rider's attack, or coasting around a corner, are some of the reasons why. The data can vary significantly from one event to another. To reflect this reality, multiple Athlete Types were developed to help cyclists train for their specific goals.

Running power is much less stochastic, with maximum power efforts not typically exceeding 2x a runner's Threshold Power (in cycling, max power can be more than 4x a riders TP), and no 'coasting'. As a result, fewer Athlete Types are required for running.

The Focus derived from the data of these events may differ from the recommended Athlete Types, but the recommended Focus' will provide a mix of workouts to help improve your leg speed, stride length, etc. to improve your Running Effectiveness, reduce the risk of injury in the future, and build up your aerobic and anaerobic fitness through Progressive Overload.

The recommended Athlete Types are based on the data we've collected from athletes using Stryd power meters in Xert.

Lastly, how long an event is does not necessarily correlate with a focus duration/athlete type. For example, if a 10k race required a lot of time at your 20 minute power, it would have a 20 minute focus (a 'Sprint Time Triallist' Athlete Type)

Short distance

5km or less: Breakaway Specialist (5 min power)

Middle & long distance

10km or greater, including half & full marathons: GC Specialist (8 min power)

Select your Improvement Rate:

Your Improvement Rate determines how quickly you'd like to improve your fitness (increase your Training Load) and the hours required to keep your training on track. Aggressive 1 and over will require rest weeks. For running, be careful not to ramp up too quickly since that's a sure way to develop an injury. Slow to moderate 2 will work well for most runners.

If you know the XSS of your target event, select an Improvement Rate that will help you reach a Training Load of ¼ to ⅓ of the needs of your goal event by your Target Event

Typical XSS for events:

5k: 50-60 XSS

10k: 80-100 XSS

Half marathons:120-140 XSS

Full marathons: 250-300 XSS

Establish your Target Event Date:

You only need a target date if you want your training advice to follow a linear periodization of base/build/peak/taper training phases. If you select a date more than 120 days in the future, or a date in the past, Xert will simply progress you according to your Improvement Rate (i.e. it won't also progress you towards your chosen Athlete Type)
COLLECT RUN DATA AND UPLOAD IT TO XERT
---
Remember to set your weight and height on your Stryd, and leave it. Stryd recommends that you "change your weight infrequently"  is it can materially change many of your metrics, including your Power data.
Before getting started you will need to pair your Stryd with a recording device, like a Garmin watch. The folks at Stryd have provided excellent instructions here.
You can also add the Xert MPA & Power datafield to your Garmin CIQ enabled watch (instructions located at the bottom of this guide), and the Stryd Power datafield.
Any device that records your run power data as a .FIT file or .TCX file can be used. Here are some tips & guidelines to enable syncing of your data with Xert: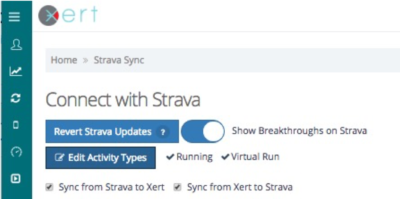 If you use Strava

: link your Xert profile with your Strava account either during your Xert account setup process or at XertOnline.com > Sync > Strava. Data captured on a Garmin watch using the Stryd power field, and synced through Strava, will not contain the power data because Strava does not currently pull the power data from the 'developer field' used in this app. You will either need to manually import your data from the site where your running .FIT files are stored (e.g. Stryd PowerCenter or Garmin Connect) or use the native power fields on your Garmin unit.
If you use Zwift:

run power data captured in Zwift from your Stryd can be synced from Zwift to Strava and

will

contain your power data.

If you use Garmin:

Garmin will not allow a bulk upload of historical activities. To import your data history when getting started you will need to export the activities in .FIT format from Garmin Connect, and upload them to Xert. Unfortunately this is manual, but well worth the investment in your time! Then, link your Xert account with your Garmin Connect account so that your all of your

subsequent

run data will be automatically uploaded to Xert.
Once your data is uploaded to Xert, you can see all of them in Activities > Table, Activities > Dashboard, or each activity individually by clicking on the name of the activity.
Ideally you should have:
2-3 months of data history to accurately establish your Training Load,

some maximal efforts that bring you to very close, or all the way, to failure to establish your Fitness Signature (Threshold Power, Peak Power, High Intensity Energy). Races, sprint workouts, or tough hill training efforts work well. You can also do the Fitness Signature Discovery workout in Xert, or the 'CP Test' protocol recommended by Stryd, but note that you'll need to add some all-out 10s sprints to determine your Peak Power in Xert.
MONITOR MPA IN REAL TIME USING THE XERT DATA FIELD
---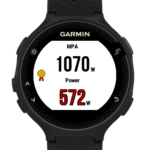 If you're racing or training with MPA – and you should, this is core benefit of Xert – you can use the Xert MPA datafield on a CIQ enabled Garmin watch.

During an interval or race, MPA allows you to understand your fatigue i.e. how 'deep' you're going at any specific moment, and if you're recovered enough to charge up the next hill. It can also be used to 'leave everything out on the race course' by aiming for a 'breakthrough on the line', with your MPA matching your power as you cross the finish line.

During a structured or unstructured (e.g. fartleks) workout, you can use MPA to help you keep pushing for a breakthrough or to bring your MPA down to a predetermined target, and it can also be used to determine when you're ready for your next interval i.e. MPA is fully recovered.

To set this up:
Connect your Stryd to your Fenix, Forerunner or D2 watch as power meter

Add the Xert MPA & Power data field to a compatible run watch.

Add this datafield to your desired activity profile and page.

Enter your Xert username & password credentials for the datafield using Garmin Connect Mobile app;

Start an activity (i.e. start the timer) with your Garmin connected to your phone via Bluetooth. After a few minutes the MPA datafield will be updated with your current signature. If the dot on the left is green, it has synced your Fitness Signature, but if it is Orange it means it has not connected to the internet to collect your latest signature. If it was recently updated this shouldn't be a problem, but if it has been a week or more you should stop the activity, check your connections, and try again. If the dot is red, double-check your Xert username & password credentials in the datafield settings via Garmin Connect Mobile.

Now go for your run! Any efforts over your Threshold Power will decrease your MPA, but as soon as you drop below your TP your MPA will recover.
If you have any questions about how to set up your Xert account to run & train with Stryd, feel free to send a note to the Support team at support@XertOnline.com
For background and information on running with your Stryd and Xert: How to set up your Xert account for running with a Stryd run power meter
For information on how to get 'up and running' with Stryd & Xert: How to use Xert with your Stryd run power meter