This article is directed towards Xerters who turn to Zwift for their indoor rides. We have made it possible to export any Xert workout from the standard library, from your coach, or self-created workouts using Xert's Workout Designer, and load them into Zwift as Custom Workouts. When you export the workouts from Xert, your current fitness signature is used to precisely calculate all the target power and interval durations that you will need to perform the workout. These values are placed into the exported ZWO file that you then load into Zwift and perform there.
Follow the steps below and you'll be 'Xerting' before you know it! However, there are some things you should know ahead of time: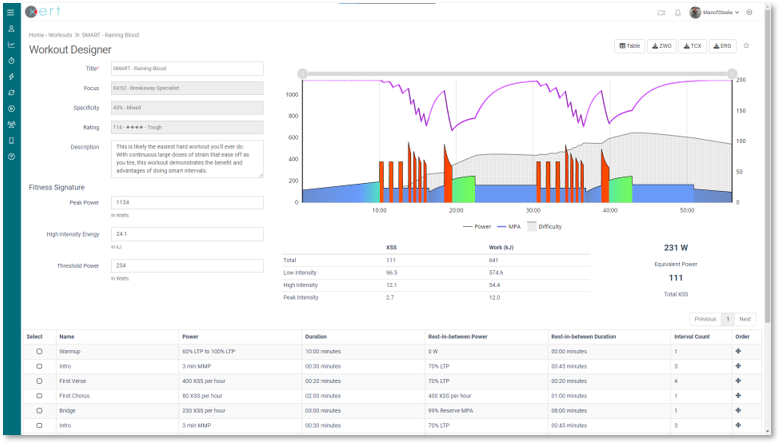 'SMART' workouts will no longer be adaptive/dynamic – All the correct wattages and durations are calculated when you export the workout file, but the workout player in Zwift  (or any other platform) isn't capable of adjusting workouts on the fly in real-time like Xert's workout players. If you have a smart trainer, you will hardly know the difference, since the trainer will control your power throughout the workout. For a more advanced approach, follow this guide if you wish to use Xert's SMART intervals while riding in Zwift.
Xert's Curvilinear Intervals are Exported as Ramps – The Xert XSSR Intervals, with their iconic shapes can only be exported as ramps. This can make the workouts harder or easier than they were intended in Xert. Workouts with these intervals are best performed using an Xert workout player.
Workout targets in Zwift are defined as %FTP – The ZWO exporter uses %FTP rather than specific wattages in the definition. This means that your FTP in Zwift should be set equal to your Threshold Power from Xert in order for the workout targets to be same.  There are a few important things to note about this:

If you are finding the workout too difficult to complete for whatever reason, you can change the overall workout intensity by either choosing a lower FTP before you start the workout, or adjusting the FTP Bias in Zwift.
As your fitness improves, you can adjust the FTP in Zwift to correspond to the increases in Xert (refer to your Fitness Signature in Xert). Under most circumstances this should work well, although if you're using a workout that was exported with a very different signature, you may want to re-export the same workout again to get updated values and more precise targets.
Even though the workouts are based on %FTP, they are not easily transferrable from one athlete to another. As all good Xerters know, using %FTP as workouts targets has its limitations, so you should not use someone else's file if you want to benefit from Xert's high precision workouts.
Loading Xert Workouts to Zwift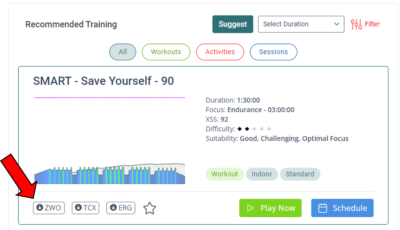 Log into your Xert Account and navigate to the Training tab of the My Fitness page. You can view  recommended workouts on the right-hand side of the page. As you scroll through the recommended workouts, you will see buttons appear for Play Now, Schedule, as well as exports to ZWO, TCX, or ERG file formats. Click the ZWO option and save this file to your computer. You can also go to your Workouts page, open any workout from the Standard, Coach, or Personal list, and select ZWO in the upper right corner to download the file.
Move/Save the ZWO file to Documents > Zwift > Workouts > ###### (this is your Zwift ID number) on your computer.

Start the Zwift app on the device you use for Zwift rides and navigate to the 'Workouts' screen. Select the 'Custom' category and search for the Xert workout you'd like to perform. That's all!
Note: if you'd like to maintain the SMART features of a workout, you can use the Xert Workout Player for Garmin, Android or iOS to 'play' the workout while letting Xert 'listen' to the power data and power you through the virtual world. Here are a couple helpful resources to help you achieve this: