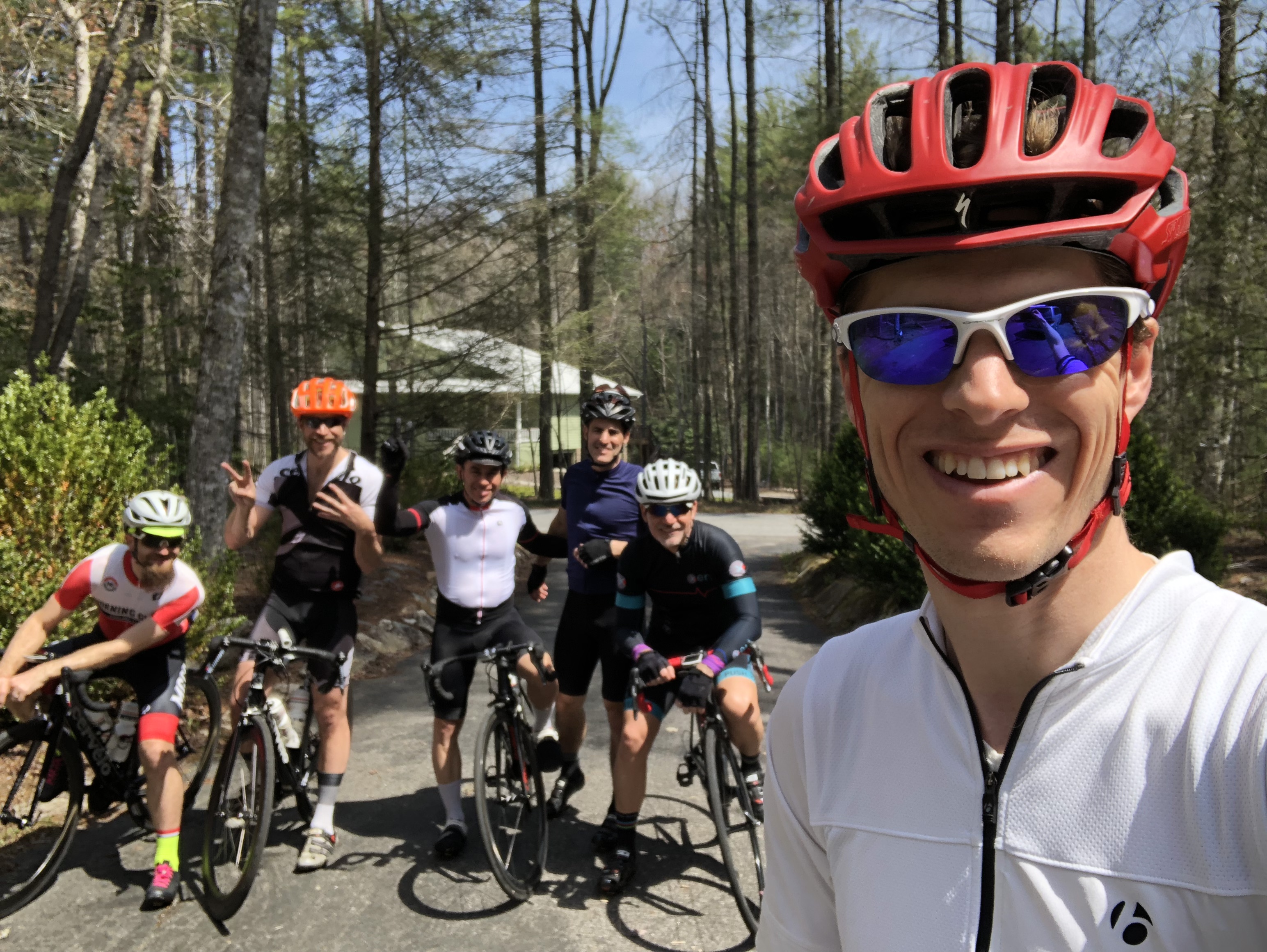 Each spring as the sun stays out a little longer and the looming race season closes in many of us are lured to warmer climes to pile on the miles at a training camp. At Xert we're no different; we just got back from a great week in beautiful Brevard, North Carolina where we rode long, chased new breakthroughs, and revelled in the freedom of nothing else to do but ride, eat, sleep, and repeat (that's a picture of the Xert crew and friends in beautiful Brevard, NC above!). Of course, we rode with our Xert data all day and then talked about it all night! The Xert system is pretty smart (we're biased!) and when used properly we think it's the perfect tool before, during and after a training camp to help you get the most out of the extra training time. Here's how:
Before
Taking a week or few days to pile on some miles is a great strategy to find a new level of fitness. Before you head out though there is some work to do to get the most out of it:
During
A nice benefit of a training camp is that it's a great time to get away from structured workouts. It's a nice break for the brain and a great opportunity to either work on another Focus, or to just ignore it altogether as you're loading up the strain and ride how you feel. Either way there are a few ways you can get a lot out of Xert during your camp.
Adjust your Improvement Rate.  During the training camp, your Xert Adaptive Training Advisor will show large surpluses unless you choose a higher improvement rate. As you can see in the image below, by the second day with an Extreme-2 Improvement Rate we've already started our functional overreaching:
Select a rest day. If you're doing a training camp more than 5 days in length you'll need a break to get the most of your time. Watch how your Xert Adaptive Training Advisor analyzes your data and how deeply fatigued you're getting. We took a rest on day 4 of our camp when my Form reached -63 (it poured rain too, which made it easier to make the decision to watch the Amstel Gold race from the couch!) but I did manage to reach 2 stars!
Look at your Focus from each ride. How do these track with your performance goals and how are you performing at a particular Focus. If one of your training days has focus similar to your Goal, have a look back at it further down the line when you're in your Peak phase to see how you've progressed. Star (marking it as a favourite) this ride so you can find it later.
Strive for a Fitness Breakthrough. This will update your Fitness Signature which is particularly important if you haven't had a breakthrough in a while. A 'fakethrough' is also beneficial. What is it? Think of a magnet on a fridge – once it gets close, it'll stick to it. It means you were very close to a breakthrough, and it confirms and reinforces the accuracy of your Fitness Signature. I had a small fakethrough (open circle) on the very last day of our camp. It was a valiant effort given how tired I had become from the overreaching!
After
We've had questions from our fellow Xerters about what do after a training camp. Here are some answers to the common questions.
Typically you'll see lots of red stars. Both the Planner and your Training Status on the home page will likely show red Very tired status, and you may even get a warning message suggesting you change your improvement rate (see Image 6)…more on this in #2 below. This is what happens when you spend many days above your typical training volume.
Set your Improvement Rate back to a more modest rate.  You shouldn't use the higher Improvement Rates for too long, especially after a training camp.  You should reduce the rate in order to allow additional time for recovery. How much time depends on your Training Load before camp and the amount of strain you experienced during the camp. In my case, I set my Improvement Rate back down to Slow and took things much easier while Very tired.  By Saturday, after a few easier rides, I was back on track and still holding on to the gains I had during the camp (still at 2 stars as seen in Image 2):
Prepare to require additional training time to maintain your previous Improvement Rate.  Once you've recovered you'll notice that your Advisor says that you'll need more hours of training to maintain your Improvement Rate than prior to your training camp. This is because you've increased your Training Load.  In my case, I reached 2 stars for the first time this year and will now need 7.5 hours of training to continue improving at a Slow improvement rate as opposed to 5.8 hours before the trip (see Image 6 above). If your Training Camp had much higher strain (XSS) than you had previously been doing, you may see larger fluctuations in recommended training compared to before the training camp, even if you reduce your Improvement Rate. This is because the Advisor will keep you building on top of the gains you had. This doesn't mean that you'll need to do the same larger XSS rides to keep improving however, but you will see larger swings to encourage you to spend a bit more time reaping the rewards of the camp.
Expect a Breakthrough! The whole purpose of training, particularly training camps, is to see fitness improvements. If you weren't lucky enough to get a breakthrough during the camp, rest assured that with the gains in fitness you obtained followed by the recovery afterwards, you'll be sure to see new levels of fitness.  For me, it was the week after and it felt great!
Finally, we think "Training Camp" deserves a better name…
Whether it was the lack of oxygen climbing up to the Blue Ridge Parkway, or the idle time tuning up bikes in the evening, at our camp we started to talk about a better name for it. The real benefit of a training camp is either a breakthrough, or building you up for a big breakthrough when you get back home and recover from the training load. So we started to call it Breakthrough Camp… In our minds it better represents what we're out there to do. So we think the world should stop calling it "training camp", and start calling it "Breakthrough Camp". What do you think?