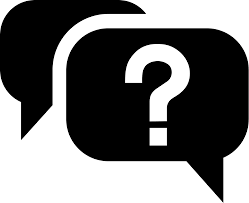 Frequently Asked Questions
How do I get Breakthrough and Workout Reports to show on Strava?
Armando Mastracci
2019-10-01T13:03:35-04:00
How to Setup Strava Breakthrough and Workout Reports

Strava breakthrough and workout reports allow activities that are uploaded to Xert and synced to Strava, to have images like the ones above to be attached to your Strava activity feed.  These are Strava Sponsored Activities but have the benefit of showing you and your followers information about your breakthrough achievement or workout completion.
To enable this feature, your activities need to go to Xert first before they go to Strava.  Hence you can't get these reports if your Xert activities are coming from Strava, unfortunately.  This is the normal process if you are using Xert Mobile for Android or the Xert Player for iOS.  If you are using a Garmin to record your activity, you will first need to disable the Garmin connection on Strava: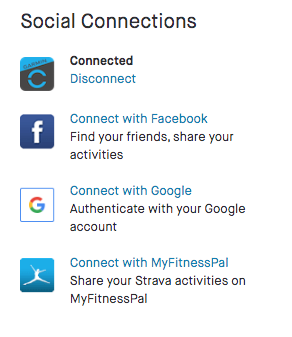 On your web browser, open the Strava Profile Settings and under the Social Connections section, be sure your Garmin Connect connection is disconnected.  Click on Disconnect if connected.  Next go to the Xert Strava page and check that your Xert->Strava setting is checked: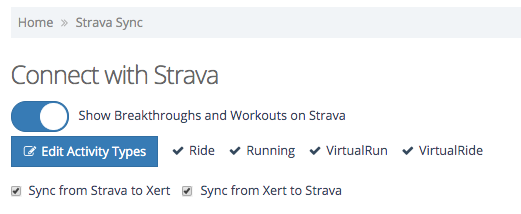 (Enable Sync from Strava to Xert so that your activity name updates on Strava will be reflected on Xert.)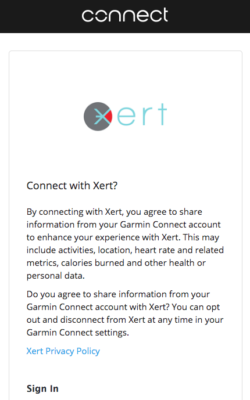 Next, enable Garmin Connect sync on Xert.  Go to the Garmin Connect page, and click on the Connect button, login and authorize Xert with Garmin Connect.
You're now all set and all your new activities recorded on your Garmin or Xert apps, or activities that you upload, will be sent to Strava with breakthrough and workout reports when they are performed.
Manually Updating Strava Activities
You can generate a Breakthrough or Workout Report manually by opening the Activity Details page for the activity and clicking on the Breakthrough or Workout Report icon.  You can then upload this to your Strava activity or post on Instagram, for example.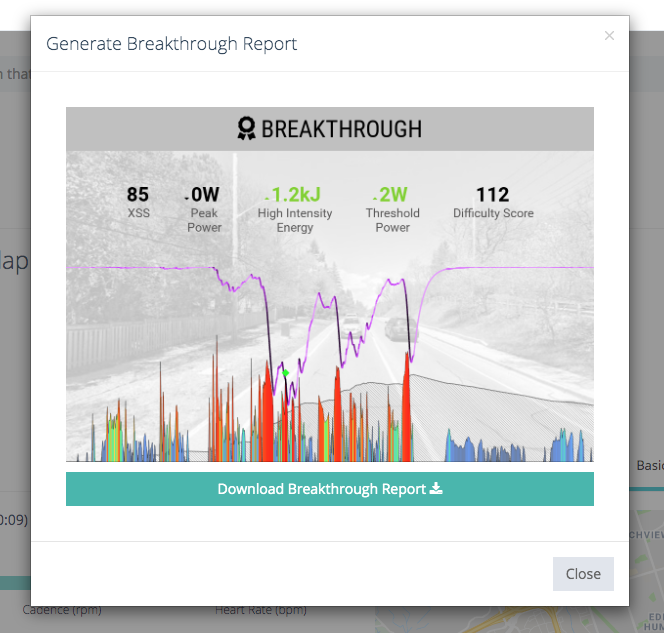 I had an XSS Training Surplus of X yesterday but today I have a big deficit of Y. What's going on?
Armando Mastracci
2019-05-09T07:52:45-04:00
Your Training Load is calculated using a exponentially weighted moving average.  For those unfamiliar with what this means, your Training Load is similar to your average daily XSS .. but not exactly .. let's see if we can help the understanding of what this means.
Let's say, for example, you start doing workouts with 50 XSS every day.  Your average daily XSS is therefore 50. If you hadn't been doing any training previously, i.e. your Training Load started at 0, and will start to rise with each activity you do.  Eventually, if you do 50 XSS workouts every day long enough, your Training Load will be 50.  XATA will show a deficit of 50 every day before your workout and 0 after you complete it.
But, what if you did just one 350 XSS activity once a week, and didn't do the workout on the same day every week. Your average daily XSS is still 50 (350/7 days) and if you did one 350 XSS activity once a week long enough, your Training Load will eventually be 50.  What is different though is that XATA, needs to calculate a daily XSS deficit/surplus and can only look at when you did your last workout to determine what your deficit should be.  If the last time you did a workout was last Thursday and today is Wednesday, mathematically, you don't have a deficit yet.  XATA expects you to do workouts on the same day-of-the-week.  If you happen to do a small workout today and get a surplus of 50 XSS, you will still get a deficit tomorrow since that's when you did your workout the previous week.  XATA looks at what you did the previous week.
Both of these are extreme examples but illustrate the point that what XATA needs to do isn't so simple – most everyone doesn't train with consistency, either every day or the same amount every week.  XATA needs to base recommendations on what you did the previous week, based on exactly when you did them, so that deficits can be properly calculated.  XATA does some additional calculations to lessen big fluctuations but still needs to account for what you did the previous week so that progressive overload can be sustained, according to your chosen improvement rate.
If you are seeing a big jump in your XSS Deficit, check your previous week.  There is likely a big XSS activity you performed around the same time.
How do I use the Segment Hunter for my Time Trial?
Armando Mastracci
2018-09-26T13:26:57-04:00

The Xert Segment Hunter is a great pacing app that can also be used for time-trials. There are a few keys things to remember in order to properly use the app for these races:
Be sure your time-trial course has been defined as a Strava segment, and 'star' that segment in Strava.
Load the course using the Segments page, then edit your Target Time to be either your expected time or a tad longer. The reason to use a Target Time that's a bit longer than your desired time is to force the algorithm to give you a negative split (a faster second-half than first-half) during the time-trial. This will likely make hitting the targets a bit easier. Remember that the app paces you based on power and adjusts during execution, it doesn't try to pace you to perform to the Target Time directly. Changing Target Time only affects the overall split.
Choose only 1 segment – the TT race course – to sync to your Garmin.
Before your race, configure your Garmin activity profile the way you'd like to use it during the race. For many, having the Segment Hunter on its own dedicated display page will work well. Others may want to combine with cadence and other data and use the app as a field.
Ensure your phone is connected to the Internet and your Garmin is connected to your phone. Start Garmin Connect Mobile on your mobile phone.
Start an activity on your Garmin and wait for the fetching process to be completed. This can take up to 5 minutes. You should see your TT course as a segment after the fetching process is completed. You can stop the recording and discard the activity. At this point, you no longer need your phone and it can be put away, particularly if your race is a UCI sanctioned race with rules about carrying phones during races.  
When you are ready to start the time-trial, start your activity recording. If you see Fetching Segments, hit the Lap button to move to Prowling mode to display your TT course. You should be in Prowling mode right before you start the time-trial.
On the start line, hit the lap button a few seconds before your race starts. You'll see your Target Power displayed with the dark grey background, with the distance and time left.
When your race starts, try to stay in the green zone. It can be a good idea to push a bit harder in places – like short hills – in order to maintain momentum on more technical courses; this may push you into the purple or red zone. You don't need to keep it green the entire time, but note that if your target power is increasing you may be going too easy; if it's decreasing you may be going too hard. Pushing a bit harder up hills or into the wind is a good tactic as long as you expect to recover back down the hill/downwind. If the entire course is uphill you'll want to stay in the green zone rather than push into purple or red.
If you've gone out too slowly, have a mechanical or have to slow down or stop for some reason, don't feel like you need to push into the purple or red afterwards to make up for it. Simply stay in the green zone and it will automatically increase your target power to account for the rest you just had.
If you encounter a head wind that you didn't expect or plan for, and expect your time to be longer than what you had set as your Target Time, there's no need to change strategy. As the app sees that you're going to take longer than planned it will begin to reduce your target power automatically.
Try a practice run or two and follow these steps to ensure that things run smoothly during the race. Get a feel for how the app responds to your efforts during practice. Even if you like to race by feel, the app will provide feedback on how well you've been able to do this. Ultimately you'll want to pace your efforts evenly so that you're totally spent by the finish line – i.e. have a breakthrough-on-line.