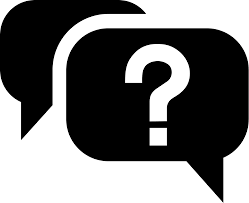 Frequently Asked Questions
Why is my Threshold Power higher than I expect?
Armando Mastracci
2018-09-26T13:31:12+00:00
TP can be higher than what you're expecting for a number of reasons:
In the past, your tests or data you used to determine TP (FTP or CP) weren't truly your best efforts.  This could mean that your previous estimates were below what you were capable of.  If any of the following are true, previous estimates have have been too low:

If you rested or went below TP, even for a few seconds during a 20 minute test.
If you weren't fully motivated to put yourself deep into fatigue.
If you started the effort with a bit of fatigue.
If you finished the test and still had some energy left.

Your signature has a low Peak Power value and your maximal efforts tend to be higher power efforts.  This can skew your TP and/or HIE higher.  Getting a good estimate for PP can be difficult because anything you do to test PP will come in below what you're capable of.  To determine your highest PP more accurately:

Sprint when you are 100% fresh.
Sprint for less than 7s.
Stand while sprinting.
Sprint at high cadences.  The higher your peak power, the faster your cadence.  The faster you're able to pedal,  the higher your peak power is likely to be.  If you're powerful, don't be surprised to see your sprint number increase simply by increasing cadence when you attempt peak power efforts.
Sprint at high speeds.  This reduces acceleration which rapidly changes cadence.  It is difficult to sustain high force on the pedals when they are accelerating too quickly.  (Please test with caution.)

You are using a virtual trainer, uncalibrated power meter or power meter with errors.  If your power data isn't correct, Xert may think you're superman.  This is because Xert determines MPA that covers power data.  If you have poor precision in your data, this can lead to greater variability in the data which Xert will see as you having the ability to withstand this greater variability, i.e. it raises your numbers.  We're looking to find ways to better handle these situations but for the time being, be wary of things like repeating power values or high cadence variability as this can mean the power data may be off and that Xert might be overestimating your parameters.
Your TP is supposed to be high since you have a lower HIE.  If you've been testing using 20 minute, or more so 8 minute, test protocols, your final TP might be underestimated using the standard 0.95 factor.  This is because you might have a lower HIE than what is typical.  Using standard tests will always underestimate your TP if this is the case.
Your TP should be adjusted lower since you have a higher HIE. This is the opposite of 4 where Xert incorrectly thinks your HIE is low and thus determines your TP to be higher than it's supposed to be.  This can happen after a period of detraining where HIE has been lowered too far by Xert's algorithm.  To address this issue, go to the activity where TP is too high and/or HIE is too low, typically one with a medal, and adjust manually.  You can do MPA Analysis to determine a good signature or simply key in what you think is appropriate into the signature field below the chart and Save and Lock to the activity.  This should update subsequent activities.
I just did a workout and some of the intervals were shorter/longer than what was defined in the workout. Why?
Armando Mastracci
2018-10-31T22:04:19+00:00
Many of Xert workouts incorporate "Smart" intervals.  These intervals can have either varying intensity, varying duration or both.  For example, let's look at the Sweet-Spot Under Fatigue @82% Workout: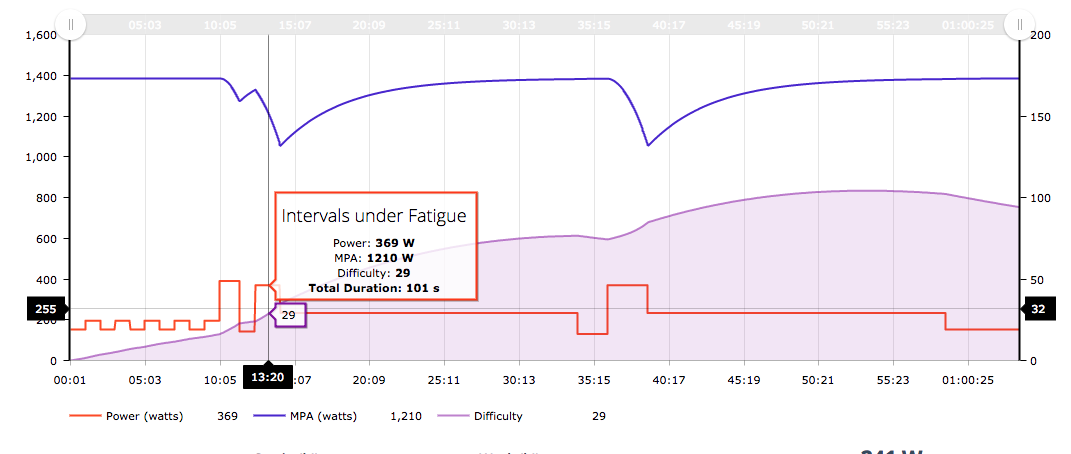 The "Intervals under Fatigue" start with an interval that's 369W that lasts 101s.  Why 101s? Seems like an odd number to choose, right?  The duration of this interval is calculated by the system and not specified.  The duration depends on your specific fitness signature.  Here is the corresponding definition row in the interval table:

You'll notice that the Power is 5 min MMP.  This means that the system will calculate your 5 minute power based upon your signature and use that as the target power.  This makes the interval the same for everyone and does not need to be fine tuned using %FTP as a coach would do for you.  Secondly, you'll notice that the Duration is 70% Reserve MPA.  What this means is that the duration of the interval is calculated to be how long it will take for your MPA to reach 70% Reserve, i.e. 70% of what you have between TP and PP or TP + 70% of (PP-TP).  Using an Target MPA and Reserve also makes this interval work the same for you as it does for someone with a very different signature than you do.  This is how the 101s is calculated.
Now to make things even more interesting and valuable to your training, the 101s can change as you do the interval.  How? Since the value 101s is based on your signature as well as your fatigue, the workout players can interactively calculate how long you still need to go at your target power in order to reach 70% Reserve MPA.  So, if you decide to soft pedal a bit during the interval, the duration will go from 101s to perhaps 110s.  You'll notice this as the interval timer slowing down.  Likewise if you are a bit eager and decide to push a lot harder than the target power, you'll see the interval timer speed up indicating you're going to reach the 70% Reserve MPA sooner as a result.  Note that the interval timers will only slow down to twice the duration and speed up to half the duration.  This variable duration SMART interval helps you get to the target MPA so that the next interval, which is a classic 20 minute 82% sweet-spot interval is done under the same fatigue independent of how you did the first interval, dependent on your specific fitness levels defined by your signature.  It works the same for everyone.  These variable duration intervals also make them well suited to outdoor or adhoc indoor training that doesn't depend on using trainer control.  The flexibility of doing these workouts in a more natural environment make them both interesting and highly effective.
What's New in the Xert Workout Player for Garmin Version 2.0
Armando Mastracci
2018-10-31T22:04:49+00:00
There have been several important new developments with the Xert Workout Player with the release of version 2.0.
1. Support for Smart Trainers Configured on Your Garmin
Previously, in order for trainer control to work with your smart trainer you could not have it configured (selected) as a sensor on your Garmin; instead, you needed to have it configured in the Xert Workout Player app. With Version 2.0, you can configure (select) the sensor on your Garmin, and the Workout Player will use it as a smart trainer. Note that there are some important considerations:
You will need to configure your trainer's power, cadence and speed sensors (as needed), each separately, on your Garmin (not in the Xert Workout Player).

Power, cadence and speed data will be correctly stored in the FIT file generated. NOTE: to have this data appear in your Garmin Connect, Strava, and Xert activities list, you must configure your trainer on your Garmin – in its native settings – not in the Xert Workout Player app on your Garmin.

Powermatch will only function when you have a separate power meter (crank, pedal or hub based, for example)

and

it is configured in the Xert Workout Player app, not in your Garmin's list of sensors in its native settings. NOTE: when using Powermatch you will not receive speed and distance information from your trainer, nor will it appear in your Garmin Connect, Strava, or Xert activity summaries. This is because by using Powermatch, you're telling the system to read the information from your pedals/hub/crank power meter, not your trainer.
To ensure the data is stored correctly per #2 above, if you are using the Xert Workout Player with a smart trainer and are NOT using a separate power meter for Powermatch, you should configure your smart trainer as a sensor on your Garmin (not in the Xert Workout Player app). This will allow the power, cadence and speed data from the trainer to be stored in the .FIT file generated by your Garmin, and to be properly recognized by Garmin Connect and Strava, for example, if the workout file is sent to either of those services.
To configure your smart trainer if you do not have a separate power meter…
For Edge 520/820:
On your Garmin go to 'Settings'

Select 'Sensors'

Search for and select your smart trainer. You may need to select 'Add Sensor' and press 'Search All' or 'Indoor Trainer'
For Edge 1030:
Select Training > Indoor Trainer > Pair ANT+ Bike Trainer.
Select the indoor trainer to pair with your device.
Select Add.
In order to use Powermatch you will need to remove your smart trainer from the sensors menu on your Garmin, and configure it in the Xert Workout Player app.   
To enable Powermatch…
For Edge 520/820/1000:
Remove your smart trainer on your Garmin by navigating to Settings > Sensors > select your smart trainer > select 'Remove' and confirm;

Open the Xert Workout Player app and a workout (press the Start/Stop button on your Garmin, and select Start Later);

Open the Trainer Control page ('back' button on Edge 820/1000/1030, bottom right button on Edge 520) and press "Select".

Once your trainer has been found, select it.

Make sure Powermatch is set to 'ON' by bringing up the Options screen (tap screen on 820/1000/1030, top right button on 520), select Powermatch, and select 'ON'.

If you'd like to begin your workout now, press the Start/Stop button on your Garmin and select 'Start Workout'. If you choose to discard the activity your settings will continue to be saved.
For Edge 1030:
Remove your smart trainer on your Garmin by navigating to Training > Indoor Trainer. Select your indoor trainer already paired with your device and press 'Remove' and confirm.
Follow steps steps 2 – 6 above in the Xert Workout Player app to set up Powermatch.
2. Improved Smart Trainer Performance If You Stop Pedalling
Previously, when you had to stop pedaling in the middle of an interval it was difficult to pedal back up to the target power with some trainers. In this latest release the return to target power from a stop has been greatly improved.
3. New Workout Intensity Adjustment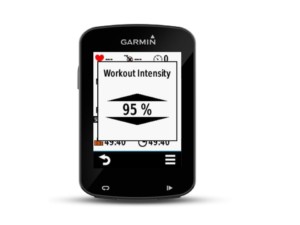 On the previous version of the app, the up/down buttons (Edge 520) and left/right screen swipes (Edge 820, 1000, 1030) could adjust the current interval only (i.e. you could only increase/decrease the wattage of one interval at a time). With version 2.0, the up/down button (520) or left/right screen swipe (820/1000/1030) will adjust the intensity for the entire workout. A single swipe will increase or decrease the target power by +/- 1%, and bring up a screen to increase/decrease intensity further with a tap of the up/down arrows.
Note that adjustments apply to your Fitness Signature's calculation of target power so that dynamically-controlled intervals (SMART Workouts) will also work correctly. A reduction of 2%, for example, reduces your target power accordingly as well as any Target MPA-based intervals and XSSR-based intervals.
Why are my stars different colours in different views?
Jamie Sprules
2018-10-31T22:05:11+00:00

Something that makes Xert unique is the ability to see your Training Status and Form depicted as a number of coloured stars. The stars and colours are used in various parts of the system and understanding what they mean is important to understanding your overall training load and your freshness. Here is a quick guide to use when looking at your Training Status and Form if you're confused by what you see.

My Fitness page: When you login, your My Fitness home page shows your Training Status and Form as of right now, i.e. when the page is displayed. This gives you the benefit of knowing what your Training Status and Form is at that moment and to provide feedback on what the data suggests is your readiness to train. If you have logged in to select and begin a workout, you'll know exactly where you stand. In addition, the Xert Adaptive Training Advisor will use your current Training Status and Form to help you select the ideal workout for you. You can also use this information to select your own workout based on this and your own feelings, motivation and need for training.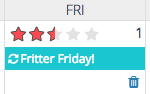 Fitness Planner Calendar: Training Status and Form is shown on the Fitness Planner for every day, both historically and into the future.  The system automatically calculates this for you when you open the Fitness Planner page and as you navigate forward into the future and backward into history. Because your Training Status and Form changes throughout each day (it changes continuously, second-by-second), the Fitness Planner uses the time shown as Usual Activity 

Time (UAT) in calculating the Training Status for each day. Think of UAT as the default time of day for your Training Status and Form and the default time you'll be doing workouts. Update it when you would like to see your historical/future information at that time of day.  Why is this important? Knowing what your Form was, and what it will be in the future, is key to understanding your past performances and to planning your future training. For example, knowing what your Form (star colours) was before a successful performance can help you understand what your Form should be leading up to an event in the future. Setting your UAT to be a time just before when you typically perform activities is the best way to view your information. It will indicate where you stood before performing activities and what it will be before you start future activities. Note that your Training Status and Form shown for today on the calendar is based on UAT and can often be very different than the Training Status and Form shown on your My Fitness home page. This is likely to be true if your UAT has a time-of-day before your latest activity and you are reviewing your current Training Status and Form that represents values from after your latest activity.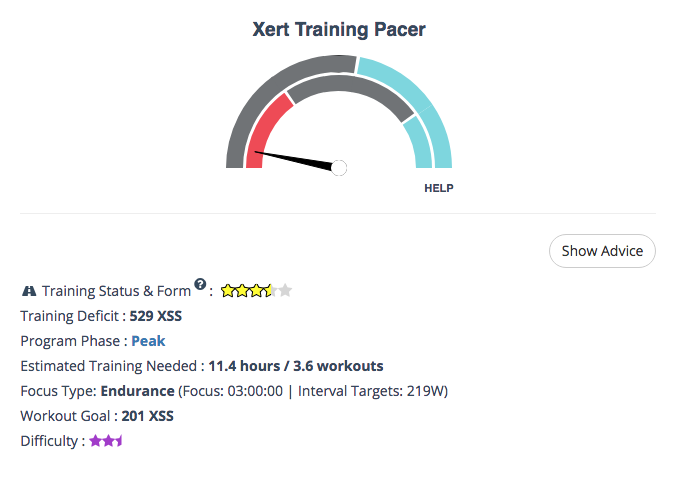 Fitness Planner Activity: When you click on an activity (historical or planned), a window shows what your Training Status and Form was/will be immediately before the time of your activity.  This allows you to see exactly what the system had calculated for you at that time and allows you to assess what condition the data indicates you were in when you started the activity (or will perform the activity).  If you open a planned activity/workout, you can update the date and time and the Training Status and Form will be recalculated to show you your Training Status and Form at that exact time. Use this information to help you schedule the date and fine-tune the time of when you'll perform your training, both to accommodate your personal schedule and to give you a bit of an added visibility in developing your plan.

XPMC (Xert Progression Management Chart): the colour of the Form line in your XPMC reflects your Freshness immediately following each and every activity. For example, after a hard workout you may see the line change from yellow to red, or after an easy workout you may see it remain unchanged.
How do I load a workout to my Garmin/Android/iOS workout player?
Armando Mastracci
2018-10-31T22:05:21+00:00
To help you plan and execute your workouts, Xert has created 'player' apps to run workouts on several different platforms: Xert Workout Player for Garmin Connect IQ, Xert Mobile for Android and Xert Player for iOS.  Read some tips below on how to get your workout loaded onto these platforms:

Each player will retrieve your Selected Workout. You'll see the selected workout on your Advisor Recommended Workouts panel highlighted as Selected Workout.
If you have the 'Select a recommended workout automatically' box checked,

the Xert Adaptive Training Advisor will select a workout for you automatically based on its advanced workout scoring system.  This will override any other selection you make using the methods below.

The Selected Workout shown will be delivered to the any of the workout players when they are launched.
To view the workout being played using the Remote Player, click on the selected workout name or use Remote Player/Monitor from the left menu. This will allow you to watch the workout on your browser window as you play it on your Garmin, Android or iOS device. For tips on how to use the Remote Player, review this FAQ.
If you are planning workouts using the Fitness Planner, it will only serve up your workout when its Planned Workout Date and Time is reached. For example, if your Planned Workout is scheduled for 6:00am tomorrow, at 5:59am you'll still see whichever workout was previously selected, but at 6:00am your planned workout will appear. If you run the workout player after the Planned Workout Date and Time has been reached (in this example, that would be 6:00am), it will download the planned workout.  Note that once your planned workout's time is reached, it is removed from your calendar and will show as your Selected Workout.
To replace a downloaded planned workout, select another workout using one of the methods below and restart your chosen Player app. On Xert Mobile for Android and Xert Player for iOS, you have the option to choose another workout from the library in the Player rather than the one provided by your account.
Here's how to select your workout:
Open the workout in the Workout Designer and click the Select Workout button: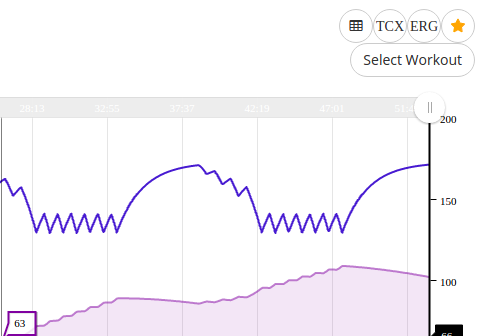 Click on a row in the Workout Listing: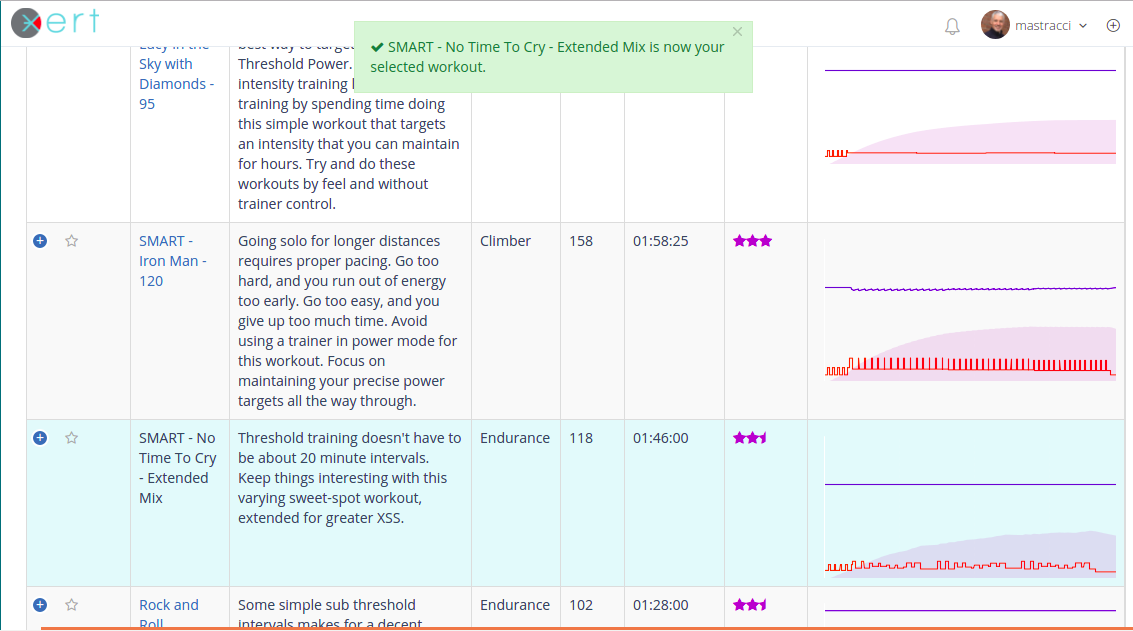 Select from the list of Recommended Workouts: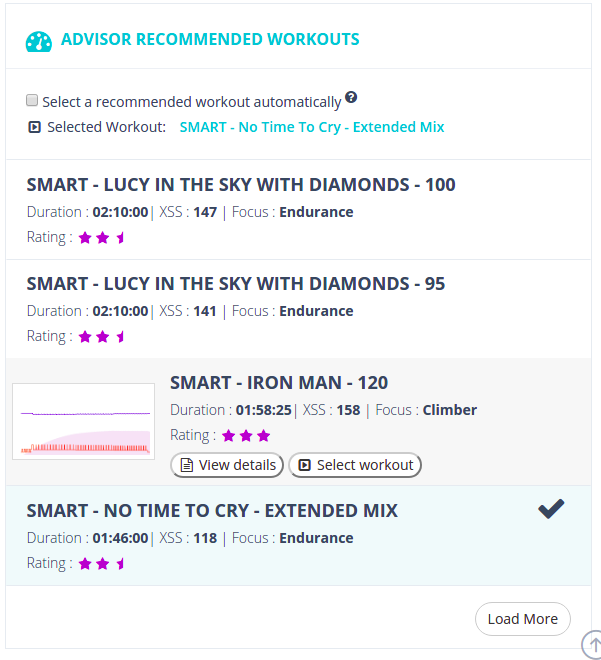 Have the Fitness Planner select the workout when its Planned Workout Time is reached: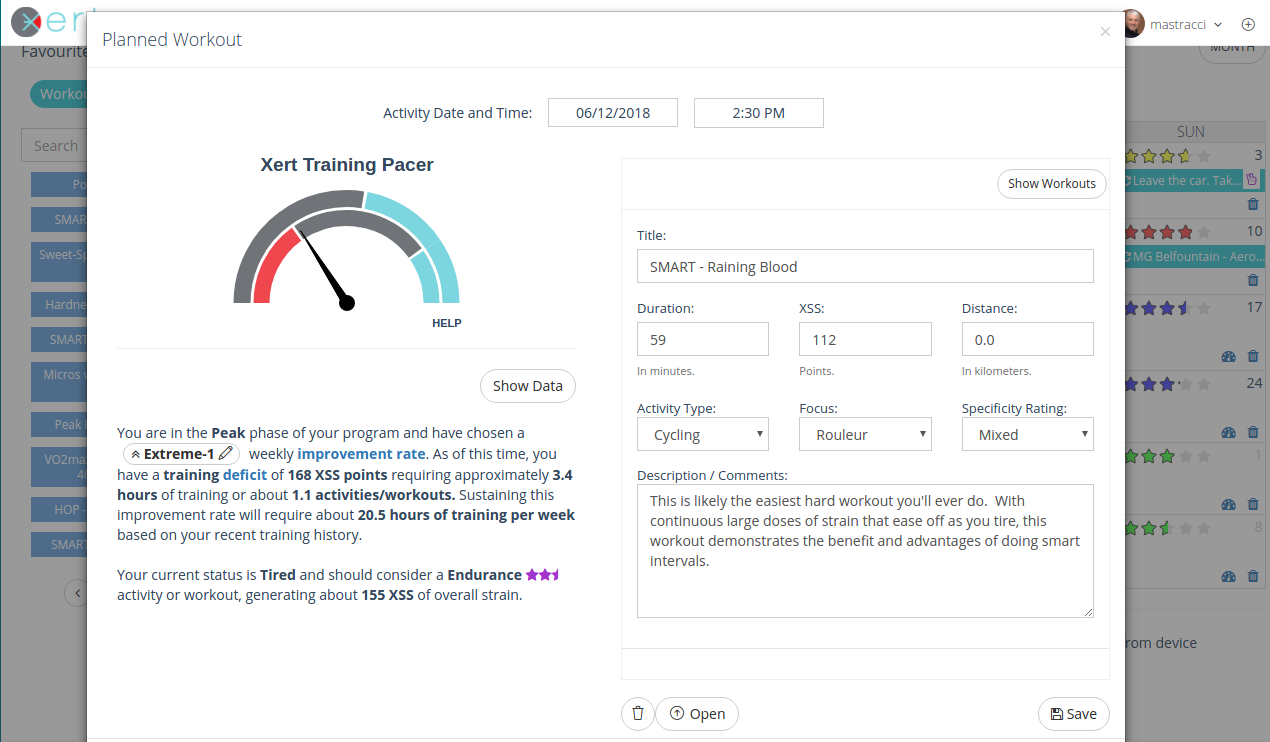 Have the Xert Adaptive Training Advisor automatically select a workout for you by checking Select a recommended workout automatically:

Xert says I'm "Very tired" but I still have a big training deficit. What should I do?
Armando Mastracci
2018-10-31T22:06:49+00:00
Having a red, Very tired Training Status, indicates that all three of your energy systems – peak, high and low – are above a certain fatigue level indicating that recovery should be considered.  If you have been training with a high Improvement Rate and still have a large deficit, this is a tell-tale sign that you might need to back off with a recovery week to allow your body to recover.  You should reduce it to Maintenance or Slow for a week or so to allow your three energy systems to recover.  After the recovery week, return back to your selected Improvement Rate and continue as before.
My workout said it was X long but instead it ended up being shorter/longer than scheduled. Why?
Armando Mastracci
2018-10-31T22:07:01+00:00
When workouts contain SMART intervals with variable duration (what are termed target MPA or TPMA intervals), the interval duration will be dynamic and can be longer/shorter than the workout's default duration based on how you perform it.  For example, if you tend to recover at a higher intensity than the interval target, your workout may end up being longer.  Likewise, if you tend to overshoot the high intensity intervals, they may end being a bit shorter.
Note that as of this writing (March 13, 2018), some Garmin Edge 520's have been known to perform workouts a bit slower than prescribed.  This is due to an issue in the recent firmware releases.  Garmin is aware of this issue.
What does the Focus mean beside Focus Type? Is this how long my workout needs to be?
Armando Mastracci
2018-10-31T22:07:49+00:00

Focus Type in the Adaptive Training Advisor provides guidance on what the Focus needs to be for the workout at this point in your training program.  It also factors in whether you are Tired or Very Tired.  The guidance is not meant to provide a workout structure but provide some simple guidelines you can apply when just riding and using the apps that show Focus and XSS. Training with Xert doesn't need to be so precise since we're capturing all your strain, even with semi-random power data. It is the reason why our workouts are not so repetitious and provide more interest. Following simple and rigid workouts is becoming a thing of the past.
The Athlete Type category is shown first.  In the above example, it is Endurance and this the general category for the workout/activity that is being suggested.
Focus is shown next. This is shown as a time value and represents the Focus Duration.  In the above example, it shows 24:06.  When using Xert Mobile, or the Focus and Strain Garmin CIQ app or if you have the Remote Player on screen during your workout, you'll be able to see what this value is for your entire workout.  As your training nears your Target Event Date, the value will come closer and closer to that of your Target Athlete Type.
Note that his value does not represent the duration of the workout or intervals.  It represents that longest duration you would be able to sustain for the Interval Targets shown.  It should be used with our apps or in creating/choosing an Xert workout. 
The last value shown in your Interval Targets.  This value provides a rough estimate of the power target you should be looking to maintain during intervals, if you are planning on just riding and not following a workout.  The more time you spend at this intensity, the more you are training at the correct focus. Combining efforts above and below this intensity is also effective.
When performing unstructured workouts where you are looking to maintain your Focus, doing any intensity is likely going to put your Focus much lower. It's quite strict. Note that if you are using the Garmin Focus field and the colour is black or yellow, it means that the Specificity Rating is polar which is mostly entirely low intensity work. To get the ideal high intensity focus you should be seeing blue or even green on the Focus field. To get that, you'll need to be much more strict about hitting the focus power (or slightly higher), and only that power, i.e. high resting intensity intervals will increase the focus duration value.
Why does my training deficit and surplus change so quickly?
Armando Mastracci
2018-10-31T22:08:07+00:00
It is not uncommon to see your Training Deficit/Surplus increase over one day or sometime even a few hours.  Training deficit depends on your activities in the past week.  Activities don't accumulate continuously.  The deficit calculation is based your Improvement Rate and takes into account your activities from the past week.  Sometimes activities enter and exit the moving window of consideration and can influence the training deficit.
In managing your activities, it is important not be too concerned with keeping the deficit at 0 but to maintain your Training Pacer on-track.  It's acceptable to train with a surplus and it is also acceptable to wait if you have a deficit, so long as you keep your training consistent and your maintain the pacer on-track.
For example, if the previous weekend, you managed to get out on a long weekend club ride at 8am that generated 400XSS points, your Training Load increased dramatically at 8am since that's when the activity's XSS will get counted.  Starting Thursday to Saturday, you'll see a higher than expected steady, hourly increase in deficit (or decrease in surplus) to give you an awareness that you'll need to boost your training to maintain your improvement relative to the Training Load you had reached after that ride.  The Adaptive Training Advisor performs some smoothing so that you don't immediately see a large deficit at 8am the next Saturday.
Remember that any planned activities that you have planned within the next 24 hours will influence the secondary pointer on the Training Pacer.
Setting up your Smart Trainer with Xert Mobile (Android)
Armando Mastracci
2018-10-31T22:08:59+00:00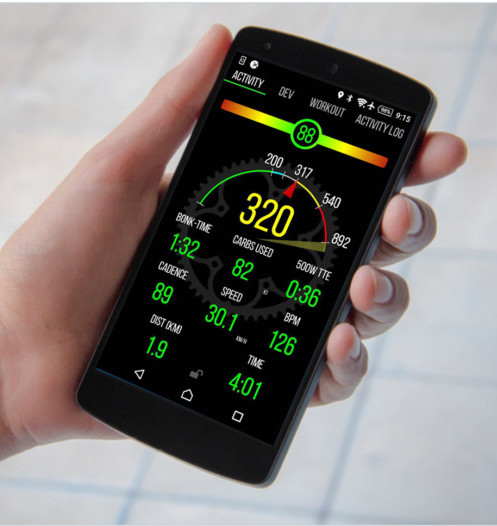 Xert Mobile for Android can be configured to work with your smart trainer where it will control the power to match those of the workout you are performing. What's important to remember is that the software works best and most reliably with trainers that support the ANT+ Fitness Equipment and Control ("ANT FE-C") standard.  Most modern smart trainers that have trainer control, such as the Wahoo KICKR, TACX Neo and Vortex, Elite Direto, Cycleops Magnus and Hammer, Minoura Kagura, and many others support this trainer control standard.  To have any of these trainers work with Xert Mobile you can perform the following steps:
Ensure you have an Android Version 4.4 or higher phone that supports USB "On-the-go" (OTG) adapters.  You will also need an OTG cable and an ANT+ USB Stick.  OTG cables are very inexpensive and can be found at your local electronics shop or on Amazon, for example, for just a few dollars.  Here is a phone with an OTG cable and ANT+ stick: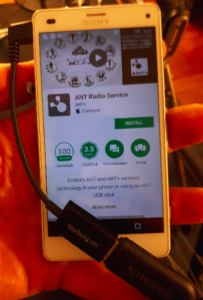 After plugging in the adapter and ANT+ stick, the Android may ask for your permission to connect to the USB device.  Choose "OK".
2. Go to the Playstore and search and install the following apps: Xert Mobile, ANT+ Radio Service, ANT+ Plugins Service, ANT+ USB Service: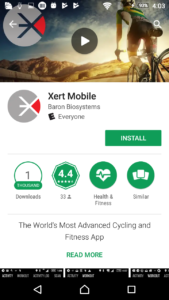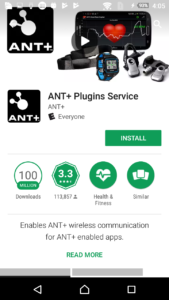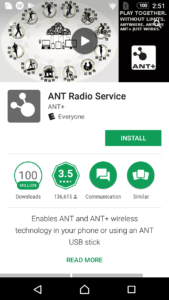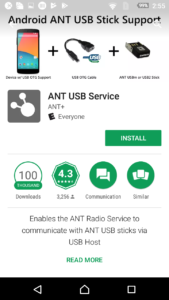 Note that if your phone has an ANT+ antenna already built-in (many Samsung's and Sony's for example already come with ANT+ built-in) you won't need to install the ANT+ USB Service and do not require an external ANT+ stick).
Launch Xert Mobile.  Use your Xert username (not email address) and password to login.
Configure your sensors.  Swipe left or tap SCAN on the main tab bar to go to the SCAN menu.  Wake up your sensors by turning your pedals or plugging in your smart trainer:
If you turn Bluetooth off in the Android system settings, you'll only see ANT+ devices on this page.  Configure Bluetooth sensors only as a last resort.  Some smart trainers are not supported in Bluetooth mode.
Tap Fitness Equipment Devices.  This is your Smart Trainer:
Enable Trainer Control, Power and Speed.  If you planning to use a separate power meter to control the power on the trainer, enable Powermatch.  Tap Enable at the top. Tap the Android back button on the bottom to exit the settings.
(Optional) To configure your power meter, identify the ANT+ id for your power meter and tap it:
Tap Power and other services available on your power meter.  Tap Enable.  Tap the Android back button.
You're now all set.  (For the first time setup, particularly if you enabled/disabled sensors or made numerous changes, you may also choose to RESTART the app:  using the ACTIVITY tab, tap START and RESTART).
Performing a Workout
To perform a workout, slide to the WORKOUT tab (or simply tap WORKOUT).  Tap SELECT to bring up your workout library.  Your selected workout that has been selected on Xert Online is shown: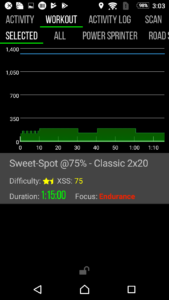 If this is the workout you wish to perform, simply tap the workout.  If you wish to choose another workout, tap ALL or one of the Athlete Types and search/choose your workout: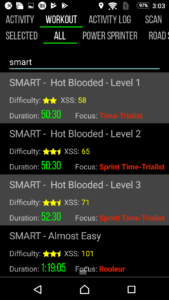 After tapping and choosing a workout, you're now ready to start the workout.  Tap START on the WORKOUT tab and your workout recording will automatically start recording with trainer control.  If you've enabled Powermatch, the calibration takes a few minutes and requires alternating sequences of low and high intensity.  Most of Xert's workouts have this as part of the warmup process.
Controlling the Workout
During the workout, you can tap ELAPSED on the bottom right to pause the workout, you can then RESUME, END WORKOUT, which allows you to continue recording, or END ACTIVITY, which allows you to finish and save the activity to Xert: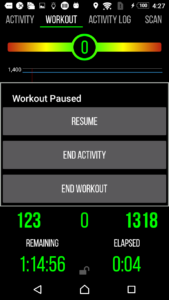 You can also tap INTERVAL to perform interval actions: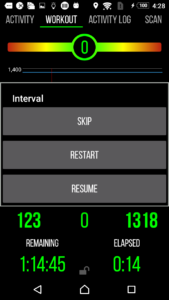 Tapping the Target Power cell enables you to adjust the power of the interval: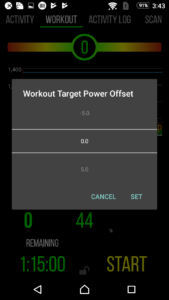 Advanced Features
Xert Mobile for Android can also control your smart trainer manually.  To control your trainer (outside of a workout session), start your activity using the START button on the ACTIVITY tab and then tap and hold a cell to bring up the cell measurement options: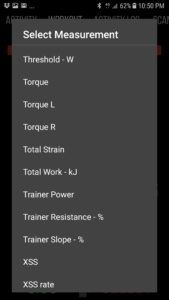 Here you can choose what measurement/item to display during your activity.  Selections related to operation with your smart trainer are:
Trainer Power: This cell will show the power data coming from the Trainer.  Often this is good to see the discrepancy between your power meter and your power meter.
Trainer Resistance: This cell will enable you to adjust the trainer resistance.
Trainer Slope: This cell will enable you to adjust the trainer slope.
Erg Mode: This cell will enable you to adjust the trainer power.
Once any of these are added to your screen, tap on them to change their settings: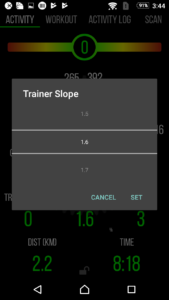 Troubleshooting
Resistance doesn't feel right: Use the SETTINGS/OPTIONS tab to review your Powermatch settings.  If you are seeing very large numbers for Trainer power offset or Trainer power scaling, reset them to 0 and 1, respectively.
Power is not being controlled or is variable: Check that you don't have another program controlling your trainer.  Only one program or app can control your trainer at a given time.
Data suddenly stopped coming in or numbers are "stuck".  If your Android is busy doing other tasks, it may inadvertently stop Xert's services that are used to collect data behind the scenes.  Swipe down from the top (twice on some phones) to see if the Xert Service is Started.  If you don't see a background service, you may need to restart your activity.  Sometimes the ANT+ services stop functioning.  When any of these happen, uour best bet is to save and start a new activity.  Often a RESTART (tap the timer on the ACTIVITY tab and then tap RESTART) will try and bring things back but it doesn't always work, especially if the ANT+ radio/plugin services become unstable or stop functioning.  When this happens, you may need to reboot the Android phone to brings things back to normal again.  N.B. It is advisable to have as few apps as possible running at the same time as Xert Mobile in order to help avoid data loss.
Exporting TrainingPeaks Data
Armando Mastracci
2018-09-26T13:30:28+00:00
How to Export My TrainingPeaks Workouts and Import them into Xert
TrainingPeaks unfortunately no longer allows third-parties from accessing data on TrainingPeaks, even if you're a paying user. Previously they allow access via an Internet-based API but as of December 2016, this has been shutdown.
You can still bring over your workouts (called "activities" in Xert) by using their export features. Here are the steps to follow. **NOTE*** These steps are for Mac users. Windows users can follow the same process but you may need to install WinZip or Gzip software in order to uncompress all the workout files.
1. Login and Click on Settings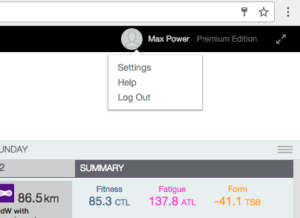 2. Click on Export Data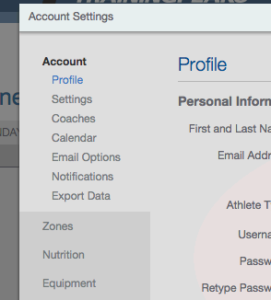 3. Select the From date under Workout Files.  ***Note that you'll only be able to export 1 year of data at a time.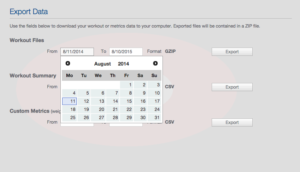 4.Select to To date.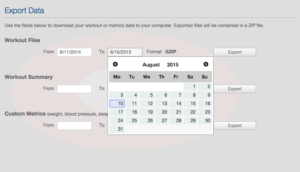 5. Click on the Export button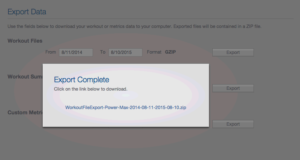 6. Click on the Link to the zip file generated and choose a location to store the zip file.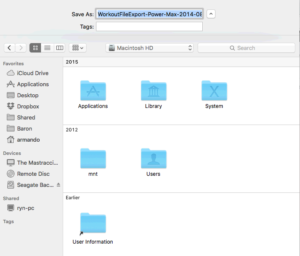 7. Save the File to your system.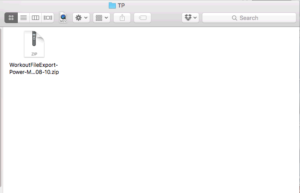 8. Open the zip file to extract the contents.  A new folder will automatically be created.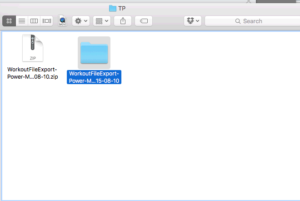 9. Open the folder.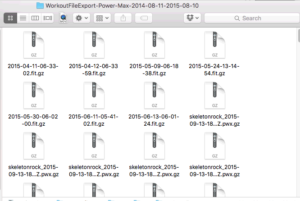 10. All the files have been unzipped but are in gz format.  This is another type of zip file and the need to be unzipped.  Select all the files in the folder. Use Option A to Select All.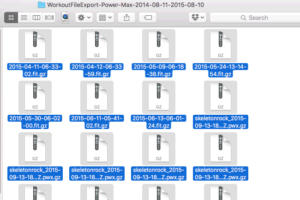 11. Right-click on the files you have selected.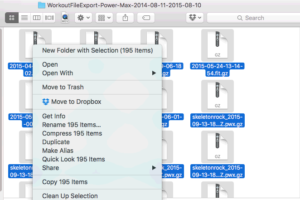 12. Click Open.  The files will then be unzipped into the same folder.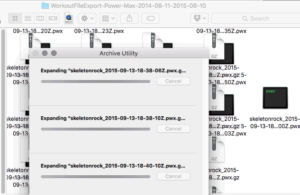 13. Select the files that have been unzipped.  These will either be .FIT files or .TCX files (.PWX are not currently supported).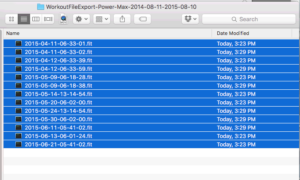 14. Login to your Xert account and click on the Upload Activity link.   Drag-and-drop your selected FIT/TCX files onto that page.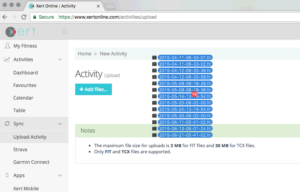 15. Wait for Xert to upload and process all your new activities.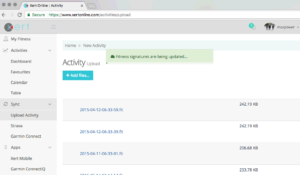 All done!  Congrats! You're all set.
How to I "seed" my Progression?
Armando Mastracci
2018-09-26T13:30:49+00:00
Seeding your progression means to ensure that the very first activity in your progression has the proper fitness signature assigned such that your entire progression history can be compared and evaluated against other parts of your progression.
To properly seed your progression, go to the Activity Details of your very first activity in your activity history and use the Advanced tab to determine/enter the Fitness Signature that applied to this activity.  Use the Save/Lock button on the bottom right to save this signature to the activity.   Xert will then perform a trickle-down process from this first activity and adjust/calculate your progression information activity by activity.
Once the trickle-down completes, your progression chart should be a better reflection of your entire progression history.
How do I recalculate my Fitness Signature Progression?
Armando Mastracci
2018-10-30T11:00:29+00:00
You can instruct Xert to go through all your activities, re-extract fitness signatures, look for fitness breakthroughs, and recalculate MPA, strain, XSS and XEP for each activity.  This is like an account "reset" as it throws out all previous calculations and recalculates them all over.  Use this to correct errors that have manifested in all your data.  This can happen if an activity has invalid data and has had this applied to your entire progression data.
To have Xert do a progression recalculation, go to your Account Settings / Profile tab: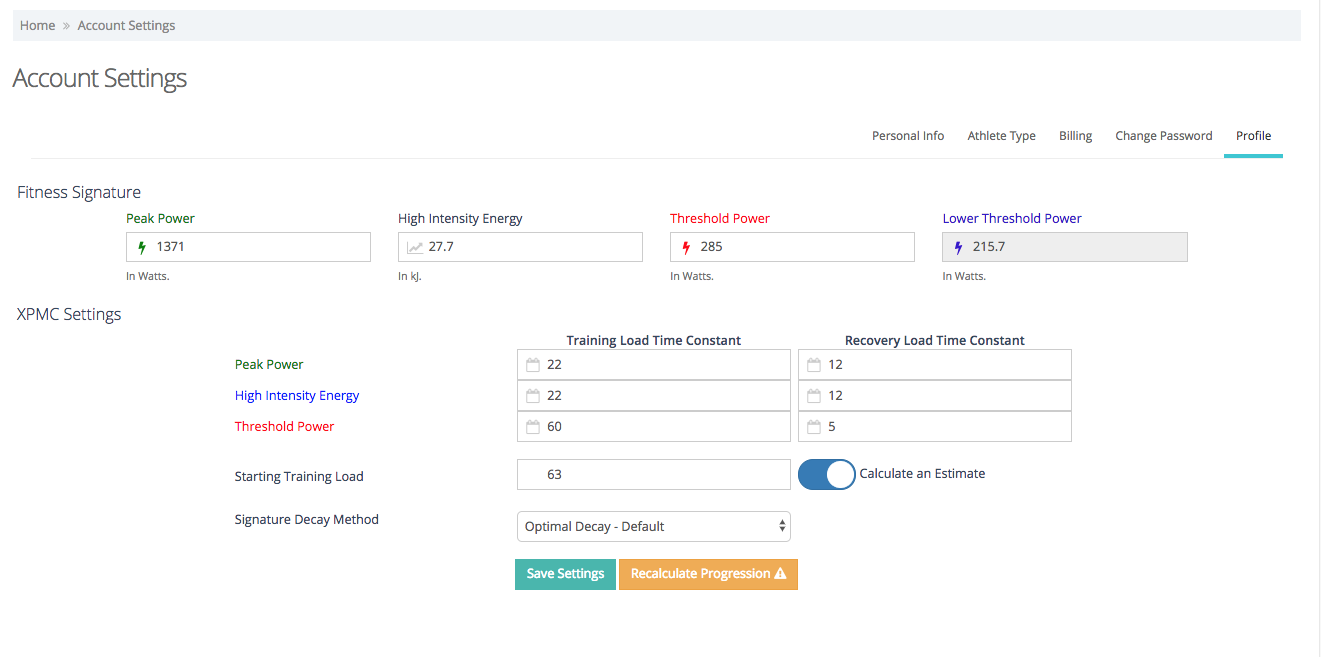 Click the Recalculate Progression button to have the system go through an recalculate all your signatures.  The system will calculate your starting fitness signature for you based on the Starting Training Load estimate.
Pro tip
If you're looking to fine tune your progression history, you can adjust your Fitness Signature which will force the progression recalculation to start with this signature.  Ideally you would also change your Starting Training Load to correspond with this Fitness Signature for best results.
Note that during the recalculation process, any activities that have saved/locked fitness signatures will be unlocked and updated.
I'm having trouble with the Segment Hunter
Armando Mastracci
2018-10-31T22:04:31+00:00
If you are having difficulty getting the Segment Hunter to work on your Garmin:
1. Be sure to put the app on fullscreen so you can see which segments get fetched.
2. Be sure Garmin Connect Mobile is running on your phone and connected to the Internet.
3. Be sure the phone is connected to your Garmin and you see "Phone Connected."
4. Wait up to 5 minutes after starting your activity for your segments to get fetched from the server.
5. Be sure you don't have anything generating lap triggers.
6. Be sure you have your correct username and password configured in settings.
7. Be sure to disable Strava Live Segments.
8. Try using Garmin Connect Mobile rather than Garmin Express (or vice versa) to configure your settings.
Remember, LAP button starts and stops your nearest segment.  It will start it from the beginning. START your activity will force the app to fetch new segments again.  You may need to wait up to 5 minutes before that process completes.
If all this fails, completely remove the app from your screen and from the device.  Restart and add the app again from the App Store.  Configure your settings using GCM.
How do I use the Segment Hunter for my Time Trial?
Armando Mastracci
2018-09-26T13:26:57+00:00

The Xert Segment Hunter is a great pacing app that can also be used for time-trials. There are a few keys things to remember in order to properly use the app for these races:
Be sure your time-trial course has been defined as a Strava segment, and 'star' that segment in Strava.
Load the course using the Segments page, then edit your Target Time to be either your expected time or a tad longer. The reason to use a Target Time that's a bit longer than your desired time is to force the algorithm to give you a negative split (a faster second-half than first-half) during the time-trial. This will likely make hitting the targets a bit easier. Remember that the app paces you based on power and adjusts during execution, it doesn't try to pace you to perform to the Target Time directly. Changing Target Time only affects the overall split.
Choose only 1 segment – the TT race course – to sync to your Garmin.
Before your race, configure your Garmin activity profile the way you'd like to use it during the race. For many, having the Segment Hunter on its own dedicated display page will work well. Others may want to combine with cadence and other data and use the app as a field.
Ensure your phone is connected to the Internet and your Garmin is connected to your phone. Start Garmin Connect Mobile on your mobile phone.
Start an activity on your Garmin and wait for the fetching process to be completed. This can take up to 5 minutes. You should see your TT course as a segment after the fetching process is completed. You can stop the recording and discard the activity. At this point, you no longer need your phone and it can be put away, particularly if your race is a UCI sanctioned race with rules about carrying phones during races.  
When you are ready to start the time-trial, start your activity recording. If you see Fetching Segments, hit the Lap button to move to Prowling mode to display your TT course. You should be in Prowling mode right before you start the time-trial.
On the start line, hit the lap button a few seconds before your race starts. You'll see your Target Power displayed with the dark grey background, with the distance and time left.
When your race starts, try to stay in the green zone. It can be a good idea to push a bit harder in places – like short hills – in order to maintain momentum on more technical courses; this may push you into the purple or red zone. You don't need to keep it green the entire time, but note that if your target power is increasing you may be going too easy; if it's decreasing you may be going too hard. Pushing a bit harder up hills or into the wind is a good tactic as long as you expect to recover back down the hill/downwind. If the entire course is uphill you'll want to stay in the green zone rather than push into purple or red.
If you've gone out too slowly, have a mechanical or have to slow down or stop for some reason, don't feel like you need to push into the purple or red afterwards to make up for it. Simply stay in the green zone and it will automatically increase your target power to account for the rest you just had.
If you encounter a head wind that you didn't expect or plan for, and expect your time to be longer than what you had set as your Target Time, there's no need to change strategy. As the app sees that you're going to take longer than planned it will begin to reduce your target power automatically.
Try a practice run or two and follow these steps to ensure that things run smoothly during the race. Get a feel for how the app responds to your efforts during practice. Even if you like to race by feel, the app will provide feedback on how well you've been able to do this. Ultimately you'll want to pace your efforts evenly so that you're totally spent by the finish line – i.e. have a breakthrough-on-line.
How to add, update and troubleshoot Xert apps/datafields on Garmin
Armando Mastracci
2018-10-31T22:06:41+00:00
In the spring of 2018 we released updates to our Garmin Connect IQ Data Fields through the Garmin Connect IQ store. These fields will receive your updated Fitness Signature automatically every time you start a new activity. To replace the old version of the Data Fields with the new ones follow the instructions below. If you're adding them for the first time, skip ahead to step #3.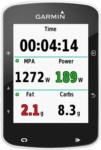 1. Remove all Xert Data Fields on your Garmin device. You can replace them with other Data Fields as a place holder, or simply remove them and rebuild the 'data screens' on your device later. Make sure you remove them from all you Activity Profiles (e.g. "Train", "Race", etc.). If you don't wish to remove them using your device you can also use Garmin Express.
2. Once all the Data Fields have been removed, and if you're connected through Garmin Express (using a desktop or laptop computer), 'safely unplug' your Garmin device. Shut off and restart the device. Now the Xert Data Fields shouldn't be on your device. 
3. If using Garmin Express plug your Garmin unit back in. Or if using Garmin Connect Mobile on your smartphone restart the app.
4. a) If using Garmin Connect Mobile select your device, select 'Activities & App Management', then 'Data Fields' and select your desired Data Field. Press 'View in Store' and download the Data Field.
4. b) If using Garmin Express, connect your device and select 'Connect IQ/Apps' and update or download the latest Data Fields from the Connect IQ Store.
5. Here's the part we wish we could change (we can't unfortunately). Using Garmin Express or Garmin Connect Mobile you need to update each of the Data Fields with your Xert username and password so that it can access your Fitness Signature. For each of the Data Fields select 'Settings' to find the username and password entry fields.
6. Now, go back to your Garmin device and add each of your preferred Data Fields back into your Activity Profile data screens.
7. Restart Garmin Connect Mobile and wait for your Garmin device to connect.
8. Start recording a new activity on your Garmin device and wait a few minutes. The Data Fields should update with your new Fitness Signature, confirmed by a pop-up on each of your Xert Data Fields saying "Updated" and the orange dot on the left of each Data Field will change to green. Note that this can take over 5 minutes.

When you stop recording the app will save your Xert Fitness Signature for your next activity. 
TROUBLE SHOOTING
Red dots on left won't change to green, or Fitness Signature won't update.
If you're seeing a red dot, it means that either the login information (username/password) has been keyed in incorrectly or the Garmin isn't reading the settings. One way to get it to read the settings is to navigate to another activity profile on the Garmin, update the settings with Garmin Express or Garmin Connect Mobile, then move back to the Activity Profile containing the apps. The apps get unloaded when you move to an Activity Profile that isn't using them. A device reboot should also do this. If neither of these work, try changing your Xert account password on XertOnline.com and doing the same in Garmin Connect.
Yellow dots on left won't change to green.
If you're not getting a connection (stays yellow), you can start your Garmin unit, start Garmin Connect Mobile, wait for the Phone to be connected, and then start your activity by pressing the 'Start' button on your Garmin unit. Clicking start has the apps query for their signature via Garmin Connect Mobile.  This can take up to 5 minutes so you may need to be patient.  Note that if you don't see a green dot, your settings that were obtained the previous time will be used.  If you then see a red dot, it most likely means that your username/password have not been correctly entered (see above).
No power or speed data on Strava after a completing a workout using the Xert Player for Garmin
Armando Mastracci
2018-09-26T13:29:25+00:00
The Xert Player for Garmin ConnectIQ requires that you configure the trainer as part of the app.  You need to select it in the app in order to get Trainer Control.  Unfortunately, due to the restrictions within the Garmin ConnectIQ environment, the power and speed data collected from the trainer cannot be stored as regular data in the activity generated.  Instead it is stored in developer fields which is a feature available to ConnectIQ apps.  The field is tagged as a power/speed data field and so Strava and other apps are able to see it as power data but it is up to them to interpret and parse out this information.  All data coming from the trainer is treated this way.  Power data coming from a power meter is not affected.
We are looking to address this issue in upcoming releases of the Xert Player.
How do I install and configure the Xert Garmin ConnectIQ Apps?
Armando Mastracci
2018-12-11T17:53:29+00:00
Currently there are 8 apps on the Garmin ConnectIQ store that you can download and install onto your Garmin ConnectIQ compatible head unit.  Each app requires that you have a power meter installed on your bike.  Bioshift also requires a cadence sensor.
You can use either the desktop Garmin Express software or Garmin Connect Mobile on your mobile phone to install and configure your apps.  You will need these to configure the apps.
To install and configure any one of our apps, open your browser and navigate to the page with our apps on the ConnectIQ app store.  Click the app you wish to install and click the DOWNLOAD button:

The Garmin app store will prompt you to login if you have not already logged in.  Once logged in, you'll see the following screen:
If you're using Garmin Express, plug in your Edge device and launch Garmin Express on your Mac or PC.  Garmin will automatically sync your new app with your Edge device:
If you're using Garmin Connect Mobile, navigate to the Garmin Devices menu and then click through to the datafield app on your device: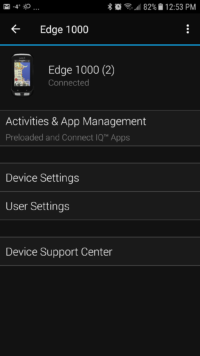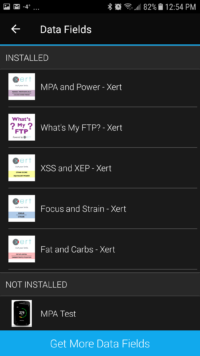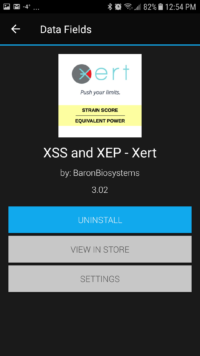 Using a Garmin device that supports ConnectIQ Version 2
For MPA and Power, XSS and XEP, Focus and Strain, Fat and Carbs and Time-to-Exhaustion, you'll need to configure your Xert Username and Password.  As of version 3.0, the software will automatically update your Garmin CIQ datafields, over-the-air, in the background.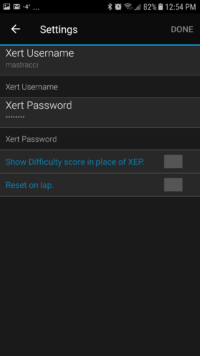 Using a Garmin device that support ConnectIQ Version 1 (some older Garmin watches)
For other devices that only support ConnectIQ Version 1, you'll need to modify the settings for Xert Code.  Click here to obtain your Xert Code and use the app settings page to enter it for the app you downloaded.
To configure the app you downloaded, click on the button with the three dots beside each app.  This opens the configuration screen for basic configuration options.  (Garmin is expanding the features on the page but for the moment it's quite limited.)
Here is additional information for various apps showing sample screens from Garmin Express:
Screenshot
Description

MPA and Power

Power Average Time is the number of seconds of rolling average to use to display power. Since power and MPA are likely to always be displayed on the screen together, this enables you to configure the number of seconds you prefer to see for power data.

Fat and Carbs

When Display fat and carb rate in watts is unselected (default), the display will show the total amount of fat and carbs in grams that have been used. When selected, the display will show the real-time watts for both fat and carbs (per second wattage).

Time to Exhaustion

Time-to-Exhaustion Watts is the wattage that the app will use to calculate exhaustion. For example, if '500' is entered in this field, it will calculate the amount of time you can hold 500W before reaching exhaustion. By default, Time-to-Exhaustion Watts is the same as the Target MPA watts unless the toggle Use Custom Target MPA? is enabled.  Value needs to be above your Threshold Power, ideally above your 20 minute power.

Use Custom Target MPA? When this is enabled, rather than showing the amount of time for MPA to reach your Time-to-Exhaustion watts, Xert will use the value in the 'Target MPA" field as the final MPA value.  (The configuration screens aren't intuitive on this but we hope to improve them when Garmin provides more options on how data is entered).

Target MPA (Must be greater than Time-to-Exhaustion Watts) is the Target MPA value Xert will use when the 'Use Custom Target MPA' toggle is enabled. For example, if your Time-to-Exhaustion Watts is 500, and Custom Target MPA is checked, and this is 700W, the timer will show how much time you have at 500W before your MPA reaches 700W.

Time-to-Recovery Watts is the wattage the app will use to calculate the time needed for you to recover. For example, if '150' is entered here, the app will calculate the amount of time it will take for you to recover while sustaining 150W.  Value must be below your Threshold Power.

Use Custom Target MPA? When this is enabled, rather than showing the amount of time needed for MPA to reach full recovery, Xert will use the value in the 'Target Recovery MPA' field as the final MPA value.

Target Recovery MPA is the Target MPA value Xert will use when the 'Use Custom Target MPA' toggle is enabled. For example, if your Time-to-Recovery Watts is set to 150, and 'Use Custom Target MPA' toggle is enabled, and this is 1000W, the timer will show how much time it will take for MPA to recover to 1000W at a power of 150W.

Focus and Difficulty/Strain

You can choose whether to display Strain or Difficulty in the second field.

When Display strain as a rate is unselected, the app will show your activity's total strain in kilojoules.  When selected, the app will show your strain rate based on your current power and MPA.

What's My FTP?

You can choose whether to display your FTP in Watts or Watts/kg.

You can choose whether to reset FTP back to the starting value when a lap notification is received.  Note that many units will generate new laps automatically.