By Jesper Offersgaard.
Xert helped me use my ride to work to win gold at the Track Cycling World Championships!
I use Xert like many others do; to help me better understand my fitness, and to help me reach my goals. Where I may differ from many of my fellow Xerters is that although I do some road and criterium races during the summer, my big goal each year is on the track.
For the past two years I've raced in the Masters category at the Track Cycling World Championships with some great success. Last year (2018) my primary goal was to defend the gold medal I won in the Scratch Race the prior year, as well as my silver medal in the individual pursuit. The event was to be held in mid-October in Los Angeles, USA (I'm from Denmark).
My biggest challenge is that I don't have a lot of time to train. I have to balance the demands of my career with family and other life priorities while trying to train for important events. As a result, most of my training is done as I commute to and from work, which is about 14km (9 miles) each way, with some longer rides on the weekends. The key to my training is to ensure that I can be as productive as possible during my commutes, and use that precious time to help me be as prepared as I can be. Training has to be specific and efficient.
Deciding To Use Xert
Before Xert I had a regimented and structured training schedule – I literally knew what workouts I would be doing 8 weeks in advance! This worked pretty well and I achieved many of my goals. But I felt that my training wasn't as good as it could be because this plan didn't account for how I was feeling (my freshness), or how my fitness was progressing. I decided to commit to Xert to guide my training so that I had a system that would adapt to my training environment (my route to work), my fitness & freshness, and to help me get the most out of my limited training time.
What I've discovered about myself
Based on my race results and my power files, I knew that I could produce a lot of power. But one of my biggest discoveries using Xert is that I have a pretty big High Intensity Energy (HIE), which I can train into the mid-to-high 30's (kJ's) at my peak. This confirmed my potential in the Individual Pursuit and Scratch Race events on the track, which not only need a high Threshold to win, but also need a big HIE to surge and sprint.
And what I continue to discover by using Xert is to know when I'm ready – or not ready – for more training. This gives me the confidence to get outside and train hard when I need to, or know that I need to take it easy to get extra recovery.
How I use Xert
Know The Demands Of My Races
My target events on the track are the Scratch Race and the Individual Pursuit. When I examined last year's power data from the race using Xert, it revealed that the Focus Duration power I needed to develop was between Road Sprinter (2 minute power) and Pursuiter (3 minute power). Focus Duration is something that helps me target the training I need to do – this particular Focus emphasized high sprinting power, and my Threshold Power, so that I could have a lot 'left in the tank' when the time comes to push hard for the finish, which is usually with 2-3 laps to go.
Track My Training
I keep track of my Focus power and my Threshold Power to see how they are improving using the Progression Chart, and I also keep an eye on my Weekly Stats to ensure that I'm 'investing' my training time properly. For example, on my Fitness Planner / Weekly Stats I track how my Polarity Ratio changes as I add more intensity leading up to the event; you can see this in the chart below, pulled from my Fitness Planner / Weekly stats a few weeks before the event.

Guide My Training
The majority of my training is done during my commutes to and from work, so I have to be very specific about what training I do. I don't have any 'extra' hours. I use the recommendations of Xert to know when I'm ready for a hard workout, and to recommend workouts that target the right Focus for me.
Out on the road, the SMART (adaptive) intervals work well because they change their intensity and duration based on how I'm doing. With traffic, stoplights, and everything else the open road throws at me, I like knowing that if I have to push a little harder, or slow down for a few seconds, I'm not ruining my workout!  
To help guide these training sessions on the road I use my Garmin Edge 820 with Xert's 'Time To Exhaustion' datafield. As my TTE approaches zero, and I'm getting really exhausted, I know I still have more to give! It encourages me to keep pushing – I love knowing that it is possible to push a little harder, for a little longer. The proof of my improving fitness and power lies in whether or not I can achieve a breakthrough!
Confidence
One of the most important ways I use Xert is for extra confidence. Looking at either the XPMC or Fitness Signature view in the Progression Chart, I like that I can compare my fitness signature and progression with last year's to see if my fitness and power is about the same, or (hopefully) better. This is an invaluable tool for me to fight away any doubts I have that I'm not as strong as I used to be, or that I'm not training hard enough. The training is usually physically and mentally exhausting – especially because it's late in the year and it requires a lot of hard intervals – so I find this information to be good motivation to keep pushing.
As I was approaching the goal date last year I could see that my Threshold Power had improved by 25 watts versus the prior year, and my 4 minute power had improved by 60 watts, without a significant change in my Training Load. That's because I invested my training time towards harder & shorter efforts to build both my Threshold  and Pursuiter power (I 'pulled' my threshold up from above using greater high intensity strain, rather than 'pushing' it up from below with high volume/low intensity work; with the limited time I had available, this approach worked best for me).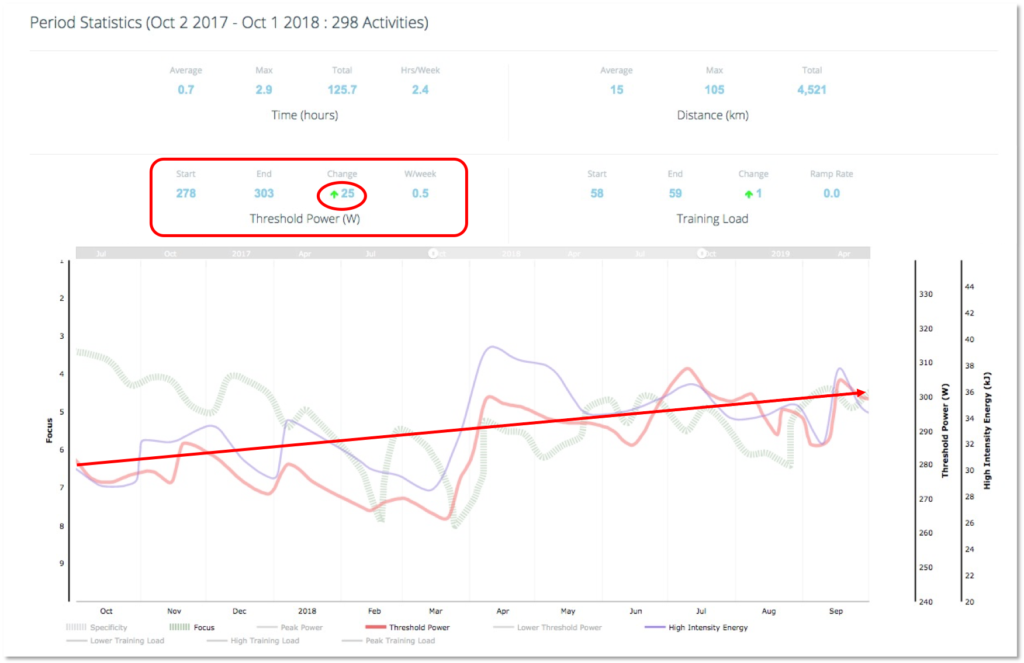 With this information I knew that I was ready to compete at my highest level again in 2018, and hopefully to use my improved power to do even better 🙂
The Finish Line
Since switching to Xert I can say that it has worked even better than I had hoped it would. My interval targets are always exactly where they needed to be, I was able to witness the changes in my abilities with my Fitness Signature, and I saw improvements in my performance in both road races and on the track. I can also say that the training has even felt easier – it is more focused, more specific, and adapts really well to my needs every day.
Best of all, I can say that this story has a happy ending. I won the gold medal in the Scratch Race and I also won silver medals in both the Individual Pursuit and Points Race last year!
If you'd like to see the final kilometre of the scratch race I won, you can see it here!
Jesper Offersgaard has been an Xerter since 2016. In 2017 and 2018 he won gold in the Scratch Race at the Masters Track Cycling World Championship in his age group, and silver in the Individual Pursuit. He also won the silver medal in the points race in 2018. Even with his success on the track, his heart is in road racing and he continues to reach the podium in local road races.
Xploits is a collection of stories by Xerters from around the world, about their goals, achievements, and how Xert helped them get there. If you have a story you'd like to share, please email support@xertonline.com