Power Analysis and Smart Training All In One App
The new Xert Mobile app for iOS closes the gap between you and the athlete you wish to become.  It has been completely redesigned with an Activity Dashboard, Adaptive Training Advisor and a powerful new Workout Player user interface.  Now you can analyse your power data and perform recommended workouts all in one app.
Activities Dashboard
Xert dives deep into your outdoor and indoor rides and presents this information on the main dashboard once you login.  At the top, you'll get a snapshot of your current fitness and performance values -the essential information you need, to see where you stand with your training.  Using Xert, you'll move beyond simply training your FTP and move to training your entire fitness profile – your Fitness Signature.  This in-depth understanding of your abilities as an athlete is unique to Xert.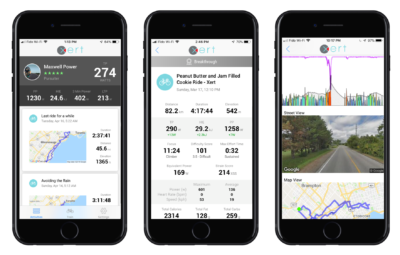 Below that, you'll see your activity performance history: the deep analysis Xert has extracted from your data to determine what your fitness was at that time and whether a change in your fitness was detected – a Fitness Breakthrough.  You'll get to understand with greater detail how you performed on that ride with new metrics like Focus Athlete Type and Maximal Effort Time.  The app will even show you a streetview image of where your fitness breakthrough occurred.
Training and Activity Stats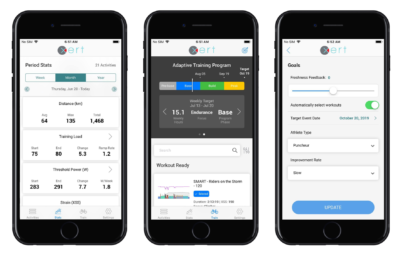 Tapping the Stats icon on the bottom opens your period stats view.  See how your fitness and performance has been changing over time.  Check on your progress easily.  Key stats available:
Hours of training including average number of hours per week.
Distance traveled included average and longest ride.
Training Load – a measure of how much training you've been doing recently.  Tap the > to get a further breakdown on how much you've been training your 3 Xert systems.
Threshold power changes including W/week increase or decrease.  Tap the > to get a view of how your entire Xert Fitness Signature has changed over the period.
Cool Xert metrics like Focus Duration, XSS.
See how many calories you've burnt, including a daily average and estimates for the number of grams of fat and carbs over the period.
Adaptive Training Advisor and Training Program
Tapping on the training icon at the bottom will bring you to the Adaptive Training Advisor view.  The Xert Adaptive Training Advisor is an advanced algorithm that determines what your training needs are (based on your activity performance history) then scores and ranks workouts you should do.  On this view, you'll see whether your training is behind schedule, on track or ahead of schedule using the Training Pacer.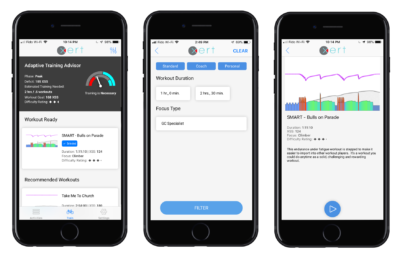 Slide to the Adaptive Training Program view and you now get a view of where you are in your training, including a view as to how many hours you need to invest in your training to maintain improvement and what the Focus of that training should be towards your target.  Time to move way from cookie-cutter training plans and let the Xert Adaptive Training Advisor guide you to new fitness and performance levels!
You can also scroll through various structured workouts, shown in order of their ranking, including the ability to filter them by type, time or source.  Use the filter for example, to find a suitable workout that fits into your available time.  You can choose a workout you'd like to play and open it in the Workout Player.
Workout Player
The Workout Player allows you to perform the structured workout on your trainer.  The app supports trainer control using smart trainers.  A comprehensive view of your workout is combined with new controls that allow you to adjust the workout intensity or skip/rewind the workout as you perform.  You can easily switch from ERG mode to Slope mode – a handy feature.  You can choose from various swipeable sections to choose what information is most important for you to see during your workout.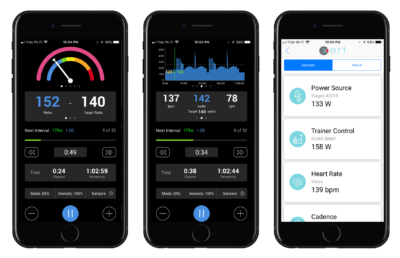 Supported Sensors and Trainers
The app is compatible with Bluetooth power meters as well as smart trainers from Wahoo and those that support the Bluetooth FTMS standard like trainers from Elite and Kurt Kinetic.  For those that are using Tacx, most of their smart trainers support FTMS except for older Neo series that do not yet have it. Contact Tacx Support for firmware updates for your Neo as Tacx have have committed to providing support for these trainers.
If you have an ANT FE-C compatible smart trainer (such as a Tacx Neo and most other smart trainers), you can opt to use the CABLE ANT+ to Bluetooth FTMS bridge for these.  The Cable device can be used to convert ANT+ sensor data to Bluetooth for use with iOS devices and supports converting FE-C (smart trainers), power meter data, heart rate monitor data, cadence data and others.
Remote Player Support
The Workout Player also works with the handy Xert Remote Player, allowing you to perform your workout while watching your workout progress and intervals using a web browser on your PC, iPad or Apple TV: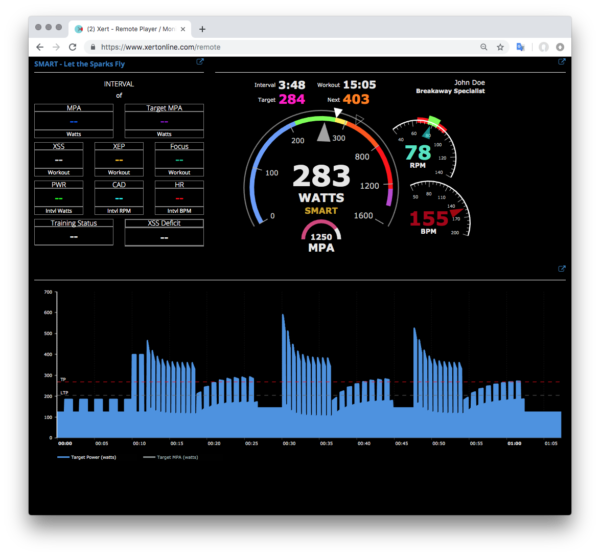 Download the app and start training with the most advanced training system available today. Register for your Free 30-Day Trial right within the app.
Minimum Requirements: iOS 9.3.5, Bluetooth Power Meter or Smart Trainer